Order Books Here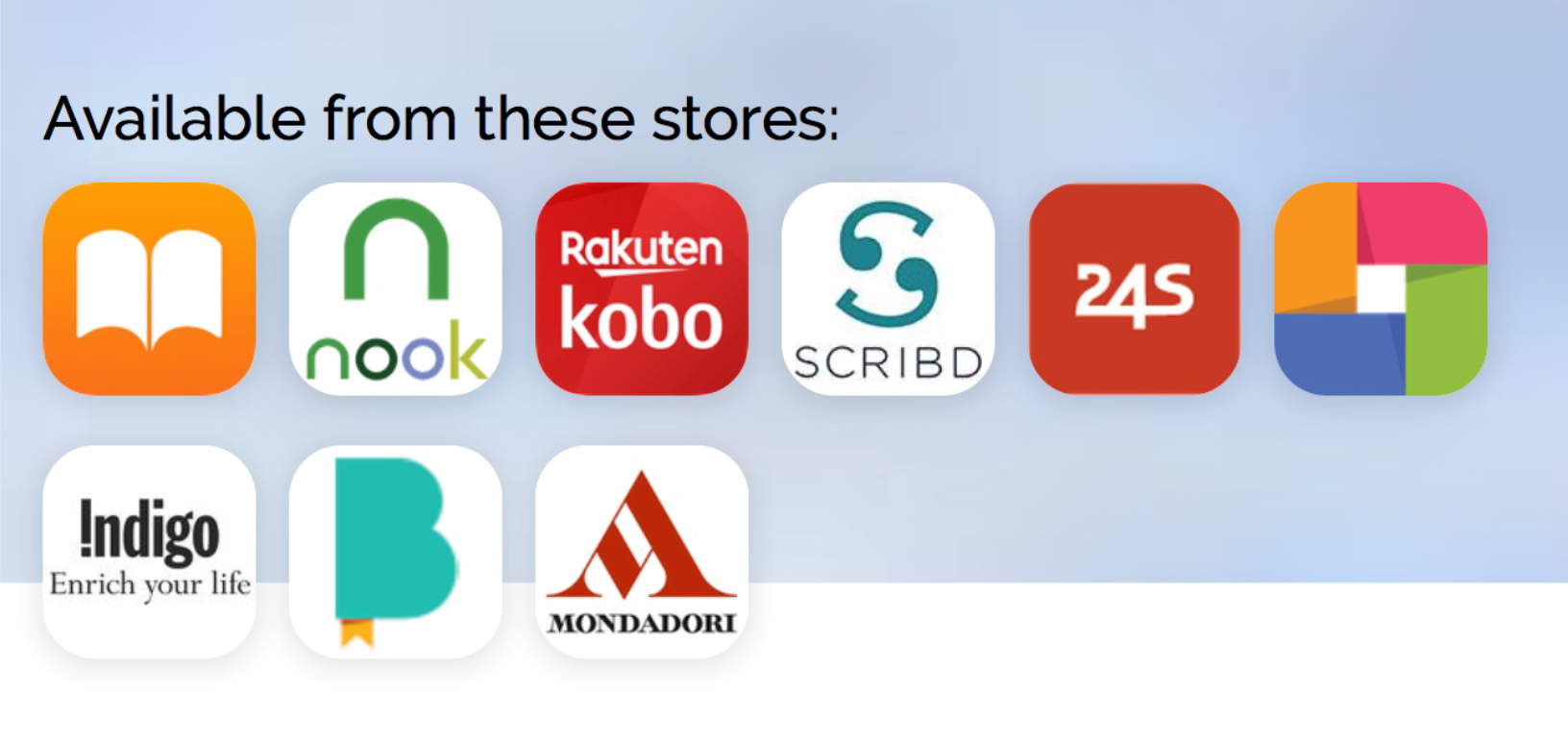 Paperbacks

Softcover Books

Available from the stores listed above or get a signed copy directly from Gail.
OPTIONS OF SURVIVAL - Book 1 - Space Colony Journals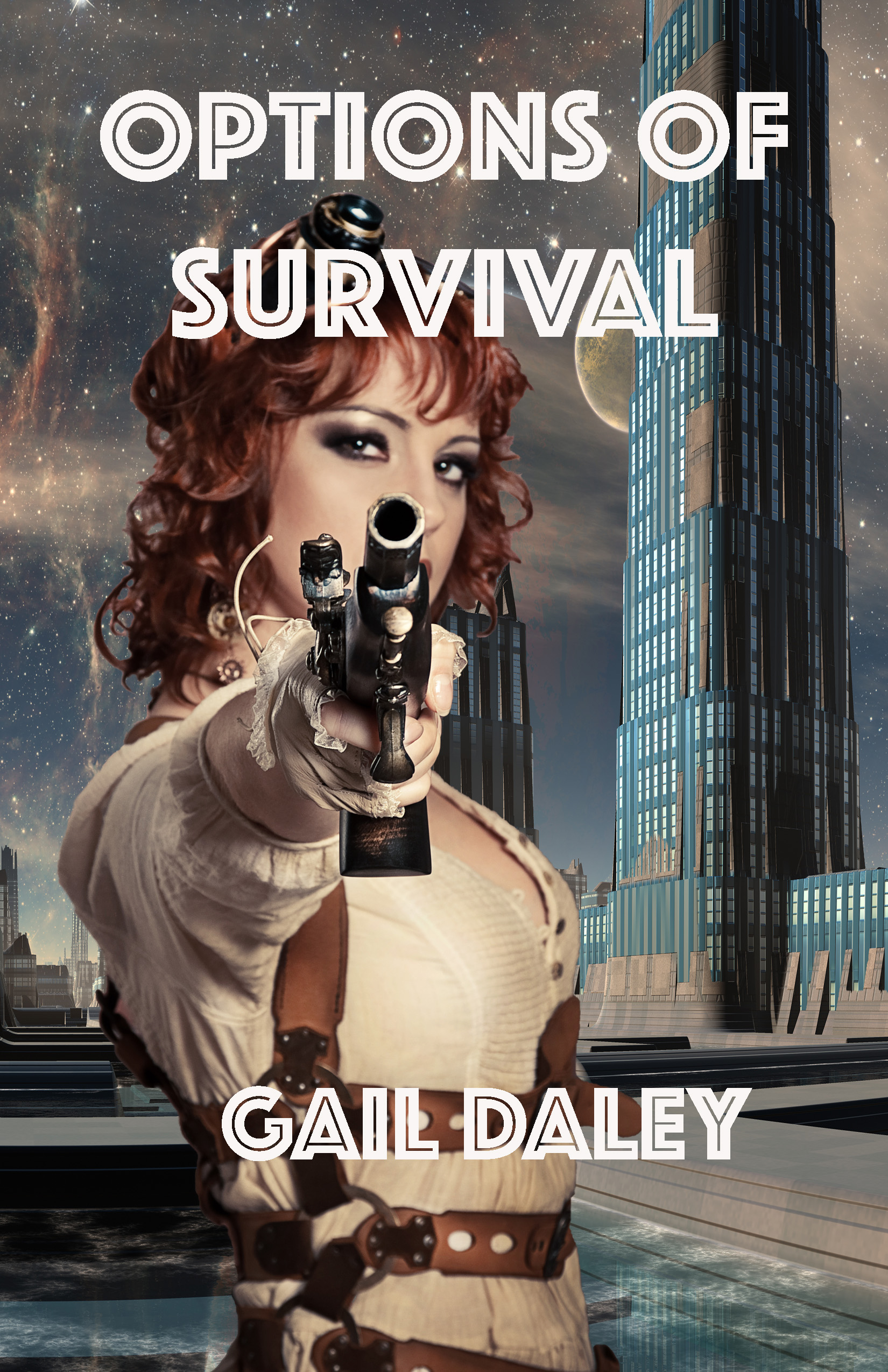 $ 12.99 USD
The Will to Survive is Mankinds greatest weapon
In the last interplanetary war a bio-weapon killed or sterilized all the males on Vensoog. To keep the colony alive, the Matchmaker Program finds ex-soldiers like Zack Jackson, a hard-as-nails ex-recon soldier who no longer has a home planet, and offer him a new home on Vensoog if he is willing to marry a Vensoog woman. With his home world now pile of radioactive ash, Zack desperately needs a new home for himself and his kids so he accepts the offer.
When the Matchmaker Program pairs him with Katherine, they both wonder if it is a match made in Heaven or Hell? They need to find out quick, because the ruthless Thieves Guild wants the valuable data cube their kids stole back. And they are willing to kill anyone who gets in their way. Plus, Katherine is falling in love with her new husband and she hasn't a clue if he feels the same about her… Soft Cover edition. Sales tax and shipping apply
DESTINY RISING - Book 2 - Space Colony Journals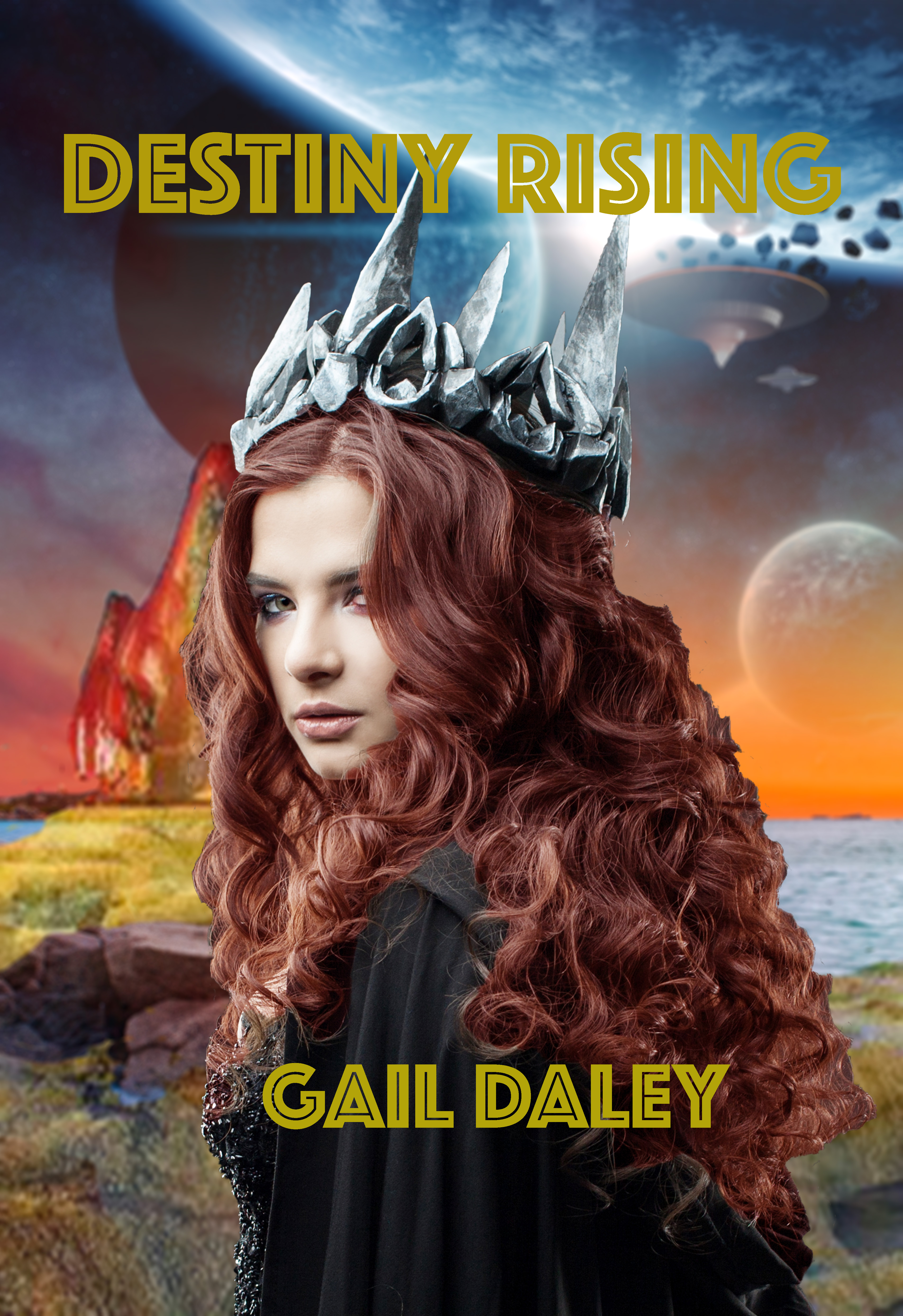 $ 12.95 USD
What happens to soldiers when the war ends? If their planet was a casualty, where do they go?
A marriage of convenience between two determined, strong willed people sparks a planetary war and puts at risk everyone they love.
Laird Genevieve O'Teague, a beautiful, strong-willed woman became the leader of her people at seventeen. Colonel Gideon Michaels had been a soldier who controlled thousands of fighters in the war. When it was over he needed a new home for his orphan niece and his adopted son. Genevieve's offer would provide both, but could he follow his heart and learn to trust and love his new wife? Vensoog is under attack by pirates and when Genevieve and his niece are kidnapped by an agent of the Thieves Guild, Genevieve and Gideon must learn to rely on each other and their newfound love to defeat their enemies. Welcome to the far future. The Space Colony Journals are an epic tale of a family's struggle to survive. These are the courageous women and dangerous men who carve a home on the Alien World of Vensoog Soft Cover edition. Sales Tax and shipping charges apply
TOMORROW'S LEGACY - Book 3 - Space Colony Journals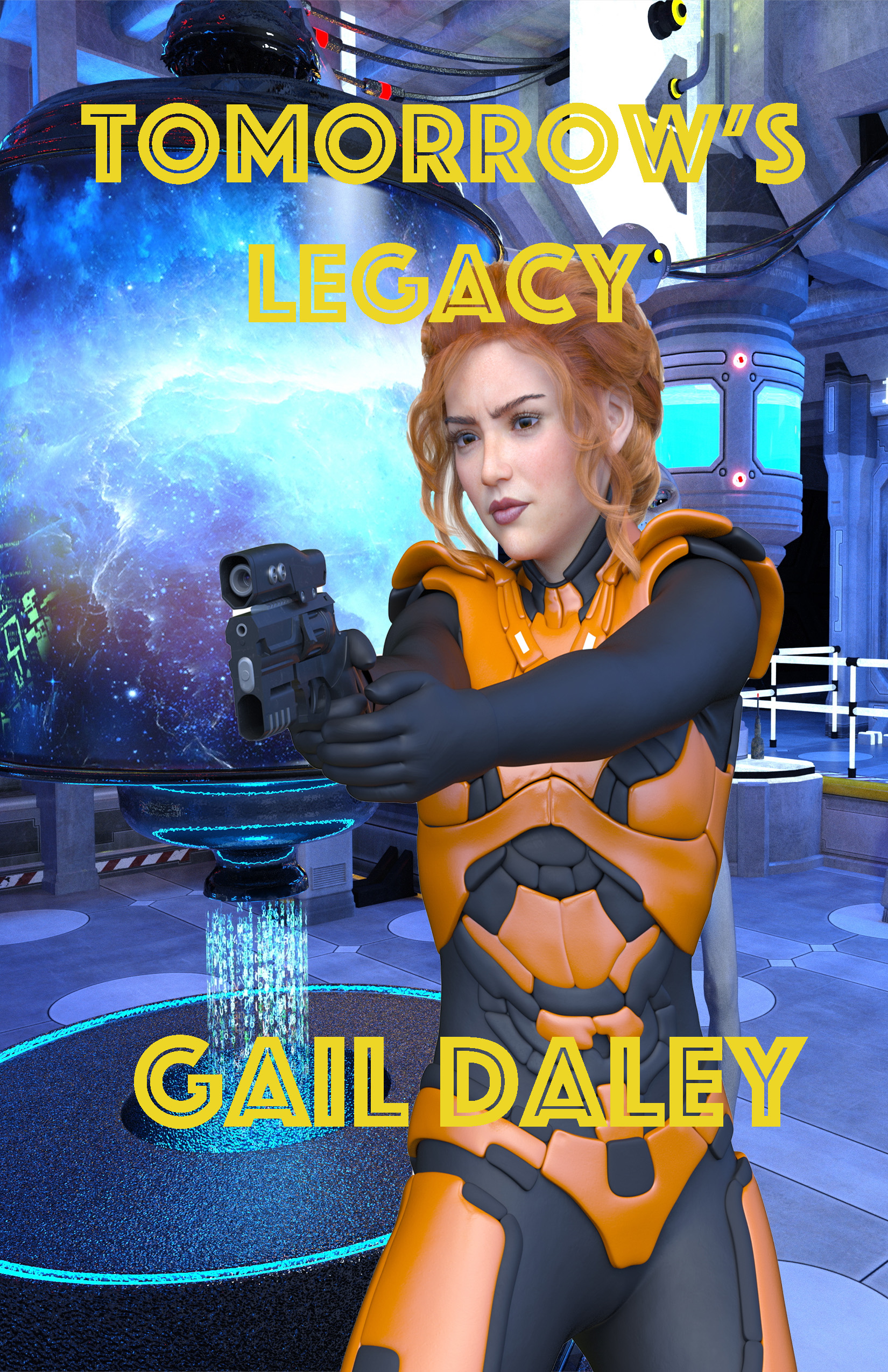 $ 12.95 USD
To save their planet from a hostile takeover, a warrior/priestess joins forces with a bard from another world and five genetically designed children.
Drusilla: A Dragon Talker, born of a line of powerful, psychically gifted women, she has been trained from birth to command the beasts of Vensoog, but can she command her own heart?
Lucas: An off-world survivor of an interplanetary war, he is the untrained hereditary Bard of his people with the ability to compel with his voice. He recognized Drusilla as his soul mate when he met her, but can he convince her they are meant to be together?
Juliette: super smart, ruthless, wily and conniving—the perfect spy whose creators never realized they gave her a loving heart.
Lucinda: given a genius level IQ whose enhanced creativity genes made her the perfect icy planner. But those same genes spark a need for order and balance at odds with the goals of her masters.
Violet: a powerful empath whose alliance with the Vensoog Sand Dragon Jelli gave her the courage to defy her masters.
Rupert and Roderick: the intuitive chemist and the genius code cracker who turned out to be a lot tougher than their masters anticipated.
Only by working together can this diverse group stop the ruthless Thieves Guild from enslaving their planet.
Soft Cover edition. Sales Tax and Shipping apply
THE INTERSTELLAR JEWEL HEIST - Book 4 - Space Colony Journals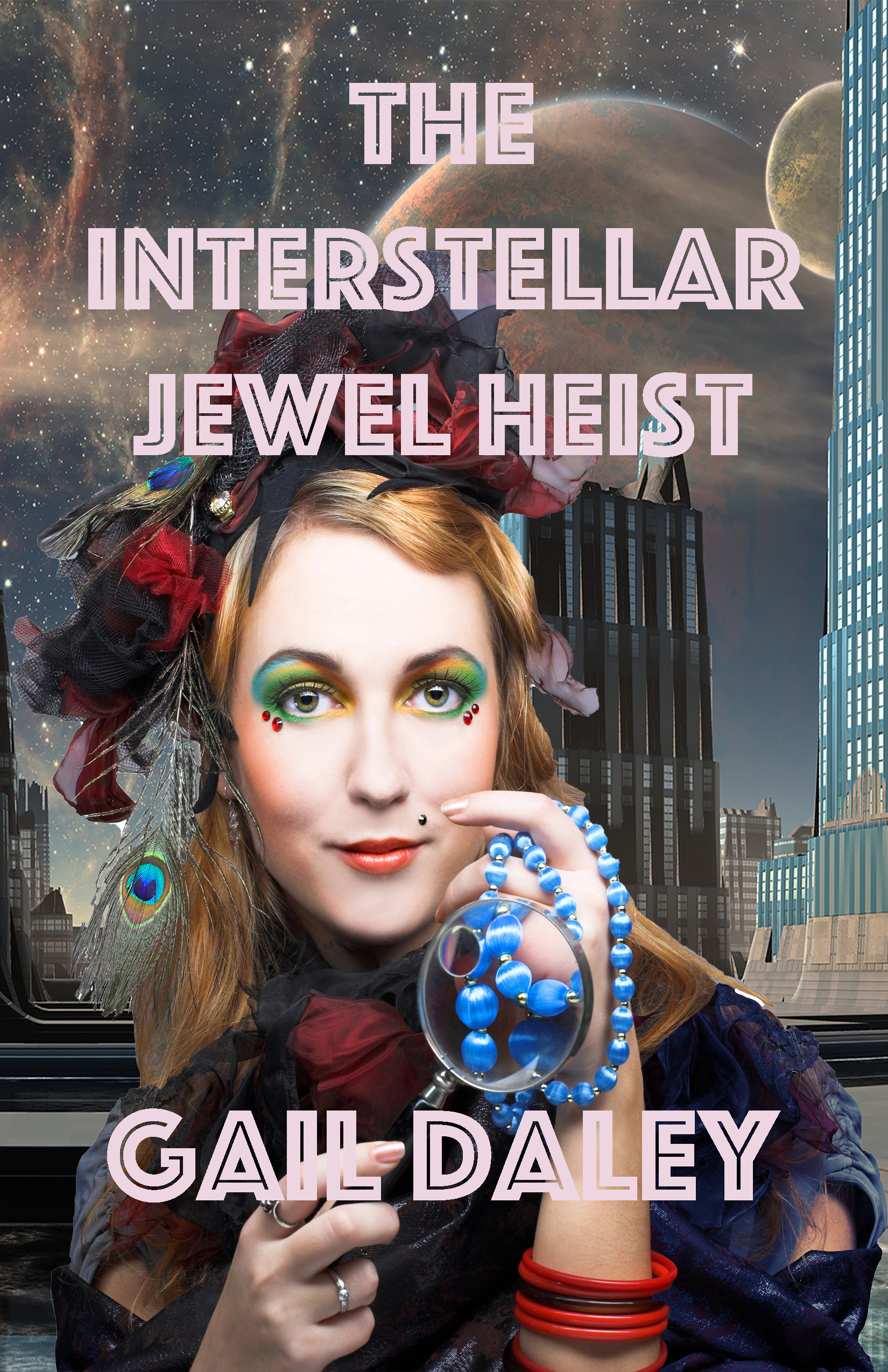 $ 12.95 USD
A Science Fiction Cozy Mystery
When she finds the body of a retired shopkeeper on the beach, a series of mysterious events draws Lady Jayla into a web of passion, terror and murder. She finally realizes that if she wants to stay alive, she must figure out who the killer is before she becomes the next target.
She faces a slew of other problems while dealing with this crises. She needs to control her dysfunctional house-bot who thinks he's a sex-bot, and cope with Jake, her nosy boyfriend and her overprotective family. She has to find a way to stop the interplanetary jewel thieves who keep breaking into her shop looking for their missing loot. To make matters worse, the local and interplanetary detectives investigating the theft and murder think she either stole the jewels herself or that she makes excellent bait for the real thieves. Take your pick.
Soft Cover edition. Sales Tax and shipping apply
THE DESIGNER PEOPLE- Book 5 - Space Colony Journals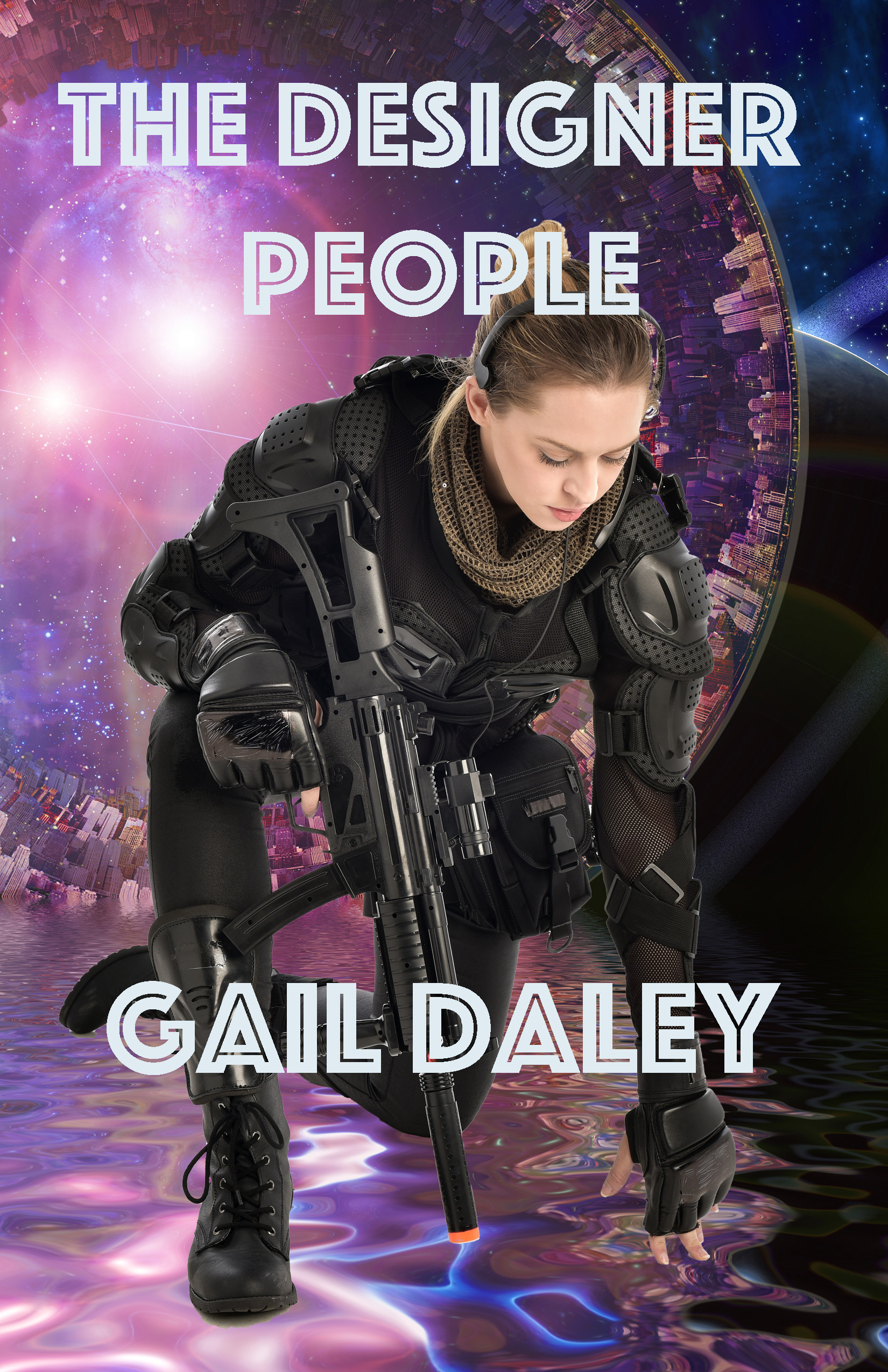 $ 12.95 USD
Tough cases for a rookie cop
Lucinda was a "designer child". Given genius level intelligence in an embryonic Thieves Guild lab, she learned survival in a harsh world. At twelve, she was rescued and adopted into a loving family. As an adult Lucinda chose to fight her former masters by joining the police force. She works hard to earn her place among Vensoog's law enforcement community.
On her first assignment, compassion impelled her to protect an alien mother and daughter fleeing off-planet bounty hunters. To ensure their safety, she must defeat a deadly Soturi warrior in hand-to-hand combat. Then she rescues a 'designer child' who is a younger double for herself from a sex trafficking ring. To solve this case and rescue the other children trapped by those same criminals, she must capture a vicious Thieves Guild assassin.
But even with the help of the best private eye on Vensoog, these are tough cases for a rookie cop.
Soft Cover edition, Sales Tax and shipping apply
ALIEN TRAILS - Space Colony Journals Book 6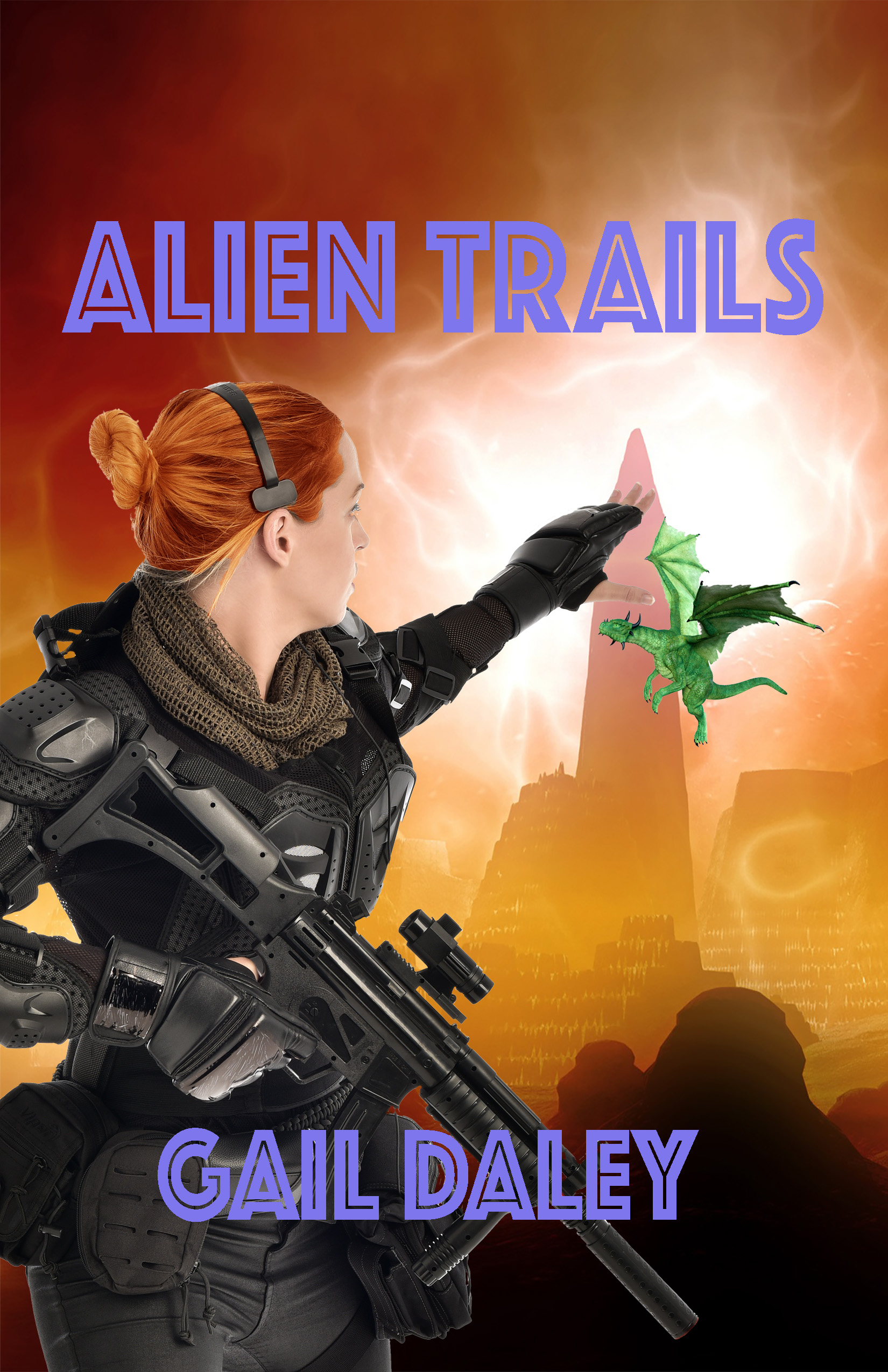 $ 12.95 USD
All girls look for romance and adventure, but sometimes its better if you don't get what you ask for...
Juliette receives an assignment from the Parliamentary Council that both excites and intrigues her. She and her Dactyl Saura join an expedition team searching for the Lost City of the Elder races.
Accompanied by a diverse group of explorers Juliette discovers there are many dangers on the unknown continent of Kitzingen. When the exploration team encounters refuges from a crashed Life Boat, she spots a Thieves Guild tattoo on one of them and is immediately suspicious.
But the dangers on the expedition are nothing compared to what awaits Juliette when she returns home. Her old enemy, the brutal and callous Van Doyle, intends to kidnap her loved ones.
He has placed a bounty on the heads of Juliette's younger siblings, and it is one his men intend to collect even if they kill to do it. Does Juliette have the courage and skill to foil his plans and save them? Or will they disappear, never to be seen again?
Softcover edition, sales tax and shipping may apply
QUANTUM LIGHT - Space Colony Journals Book 7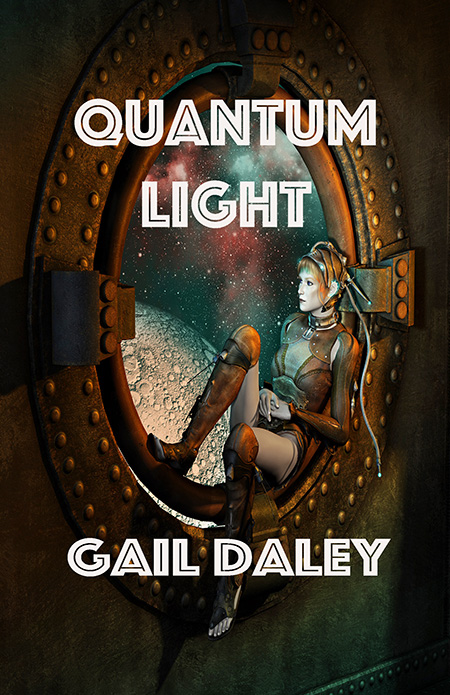 $ 13.13 USD
A family of innocent botanists finds themselves thrust into the middle of a drug war on an alien planet.
Rupert and Aire have come to Trellya to negotiate the purchase of plants Rupert uses in the medicines and cosmetics his company makes. The dactyl Pelcon is with them because he goes everywhere Rupert goes. Sesuna came with them to find out what is happening on her family's estates. Teenage Selick came to see Trellya and meet the birth mother who sold her to the Thieves Guild as an infant. Will she love her or hate her? Either way, Selick has a lot of growing up to do.
To her horror Sesuna discovers her family's property has been over-run by rebels who plan to finance their revolution with the sale of Submit, a banned, highly addictive drug employed to make users compliant. They have already planted some fields on her property with plants used to create it. If she can't prove her innocence the Magistra will use this as an excuse to seize the estate. But Before Sesuna can destroy the fields she and Selick are kidnapped by the rebels, whose leader intends to force Sesuna into marriage to gain control of the estate. Can Rupert and Sesuna defeat him and save her family's lands?
Order Now For Delivery in August 2020
Softcover edition. Shipping and taxes apply
WARRIORS OF ST. ANTONI - Book 1 St. Antoni The Forbidden Colony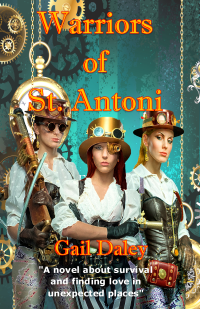 $ 12.95 USD
A combination of shoot-'em-up western and Victorian Steampunk. A fast-paced Sci-Fi novel of adventure and romance on an alien planet.
After a sniper cripples their father, Sisters Bethany, Jeanne and Iris struggle to survive and hang on to their ranch and mine.
Bethany marries a mercenary gunfighter to shield her family from a predatory neighbor. To her surprise, the marriage of convenience turns into a love match, but Bethany and Alec must learn to trust as well as love each other.
Iris chooses an arranged marriage with a beloved old friend, but did Carlos marry her for love, or to please her father?
Jeanne and Samuel fall in love and run away to a distant city but discover you can't escape who you are: Samuel is the son of her family's greatest enemy. Will their love be strong enough to survive when Samuel's father demands he return to the clan?
Soft Cover edition. Sales tax & shipping apply
The Enforcers - St. Antoni The Forbidden Colony Book 2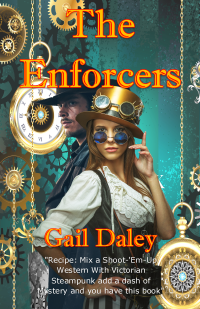 $ 13.99 USD
A fast-paced Sci-Fi novel of adventure, mystery and romance. A former assassin for hire plays a deadly game of cat and mouse with a serial killer on the Forbidden Colony planet of St. Antoni
Chloe was trained from a young age to be an assassin. Since her move to Junction City, she has been trying hard to reinvent herself as an investigator. But her first case has a huge complication: she finds Samuel Adams, the man she came to question, dead. He has a wicked knife sticking out of his groin. She didn't do it, but given her history, who will believe her? It looks as if her past is about to catch up with her.
Caleb Jones is a man with a violent past. After his family was destroyed in a city state war, he went to work at the only job he knew. As an Enforcer for the Marshals of the Federated City States of St. Antoni, he hunts killers. He came to Junction City looking for a serial killer. Instead he finds Chloe. Is she the killer he's looking for or the woman who can replace everything he lost?
Release date Nov 1, 2020. Available for preorder.
Taxes and shipping will be applied.
The Gaslight Bandits - St. Antoni The Forbidden Colony Book 3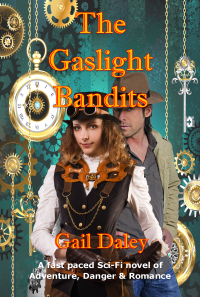 $ 13.99 USD
A fast-paced Sci-Fi novel of adventure, mystery and romance on the forbidden colony of St. Antoni. Francis is thrust into danger when she is drafted to help investigate a series of train robberies.
After their crazy father killed their mother, sixteen-year-old Francis Dominique became solely responsible for the welfare of her two young sisters. The colony of St. Antoni is a rough place; a woman needs to be smart and tough enough to protect, feed and clothe herself or find a man to do it for her. Francis opted for the first choice, and went to work for the Enforcers, St. Antoni's elite law enforcement bureau. She tries desperately to keep her mind on her work and not dream about her boss, the handsome, devil-may-care Hercule Jones.
When she is drafted into taking part in an investigation, she finds herself embroiled up to her neck trying to identify the outlaws robbing the trains connecting St. Antoni's City States. Then the investigation turns dangerous and personal problems begin piling up. Her father escapes from the Asylum for the criminally insane, and a lawyer with a custody writ arrives intending to drag her and her sisters to Copper City to live with grandparents who have ignored their existence until now. Can Francis keep her sisters safe and catch the outlaws without being killed herself?
Available for pre order - release date Jan 1, 2021
Taxes and shipping will apply
SPELL OF THE MAGI - Magi of Rulari 1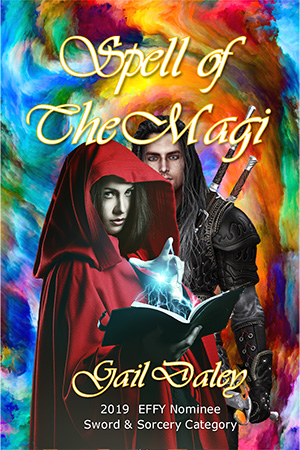 $ 12.95 USD
Nominated in the Sword & Sorcery Category in the 2019 EFFYs!
An amnesiac Mercenary falls for a Sorceress whose dark secrets could destroy them both
Rebecca was born to the Magi in a land where it means slavery or death. All her life she has hidden from the Shan's Witch Proctors who control the enchained Magi. To keep her family safe from them, she will risk anything, tell any lie even trick an innocent man into a forbidden marriage. She never expected to fall in love with him. But it happened. Now she and Andre must defy the Proctors with nothing but her untried magic and. his skill with a blade.
Soft Cover edition. Sales Tax & shipping apply
MAGI STORM - Magi of Rulari Book 2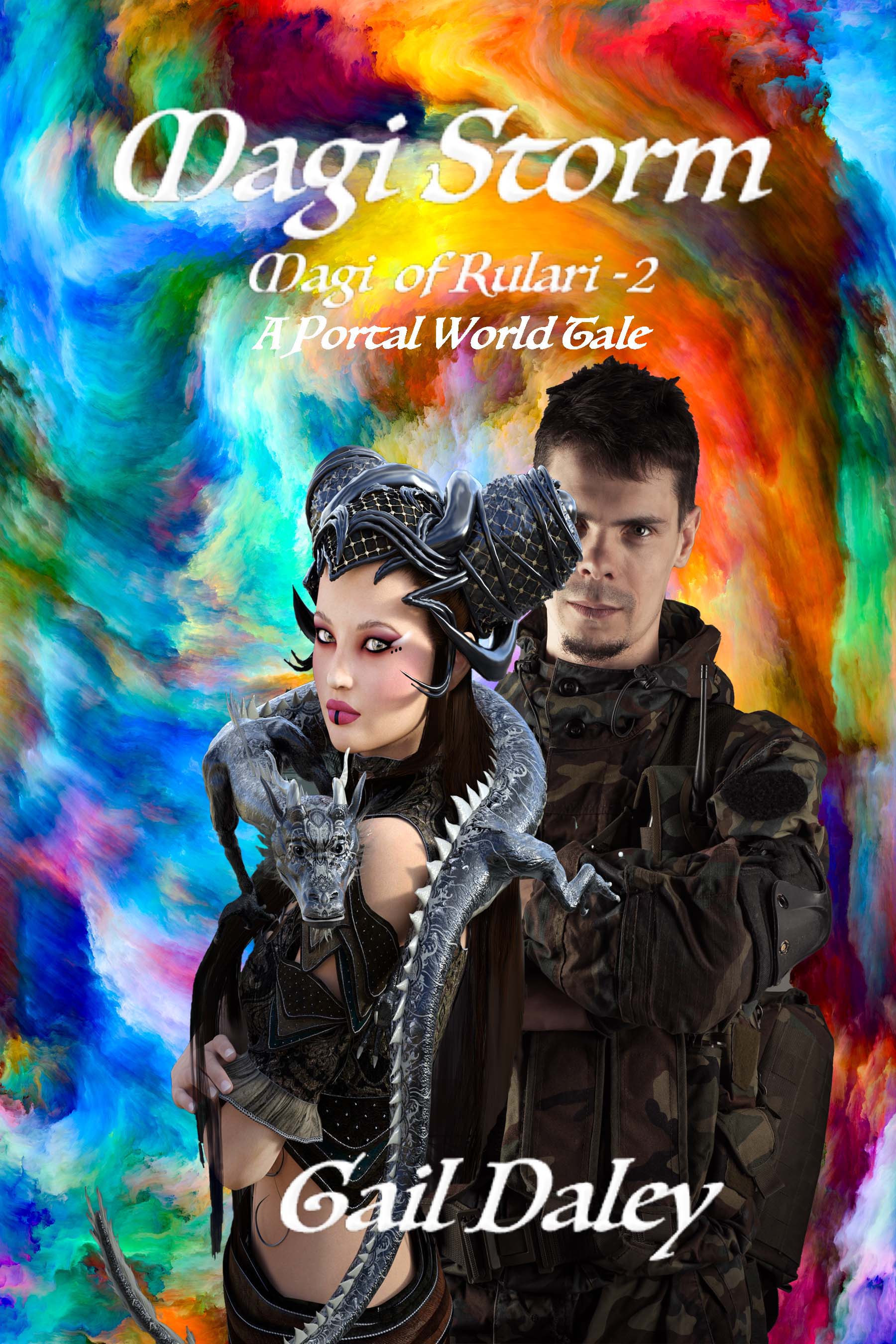 $ 12.95 USD
Magi of Rulari - Book 2
A simple act of kindness dumps a young healer into a web of Magic intrigue and war.
When Catrin arrives at the crumbling Wyvern Towers to unite Wild Magi Logan Silvermane aka the Weatherman, with his baby son, she discovers the place is in ruins. Logan is there on mission to convince an old friend to accept the new Magi Accords. The Accords will free Askela's enslaved Magi from the tyranny of the Proctors and help keep everyone safe from invasion from the nearby kingdom of Jacite. But there is a traitor at Wyvern Towers. Can Catrin & Logan convince a powerful wizard to return and take up the Magi defenses of Askela before a Jacite agent destroys them and Askela's best hope for peace?
The Magi of Rulari chronicles the on-going saga of two very different societies (human and Sekhmet) who must learn to live together on a world where magic works and men and women live or die by the sword.
Soft Cover edition. Shipping & Sales Tax apply
Modern Artist's Handbook - Introduction To The Internet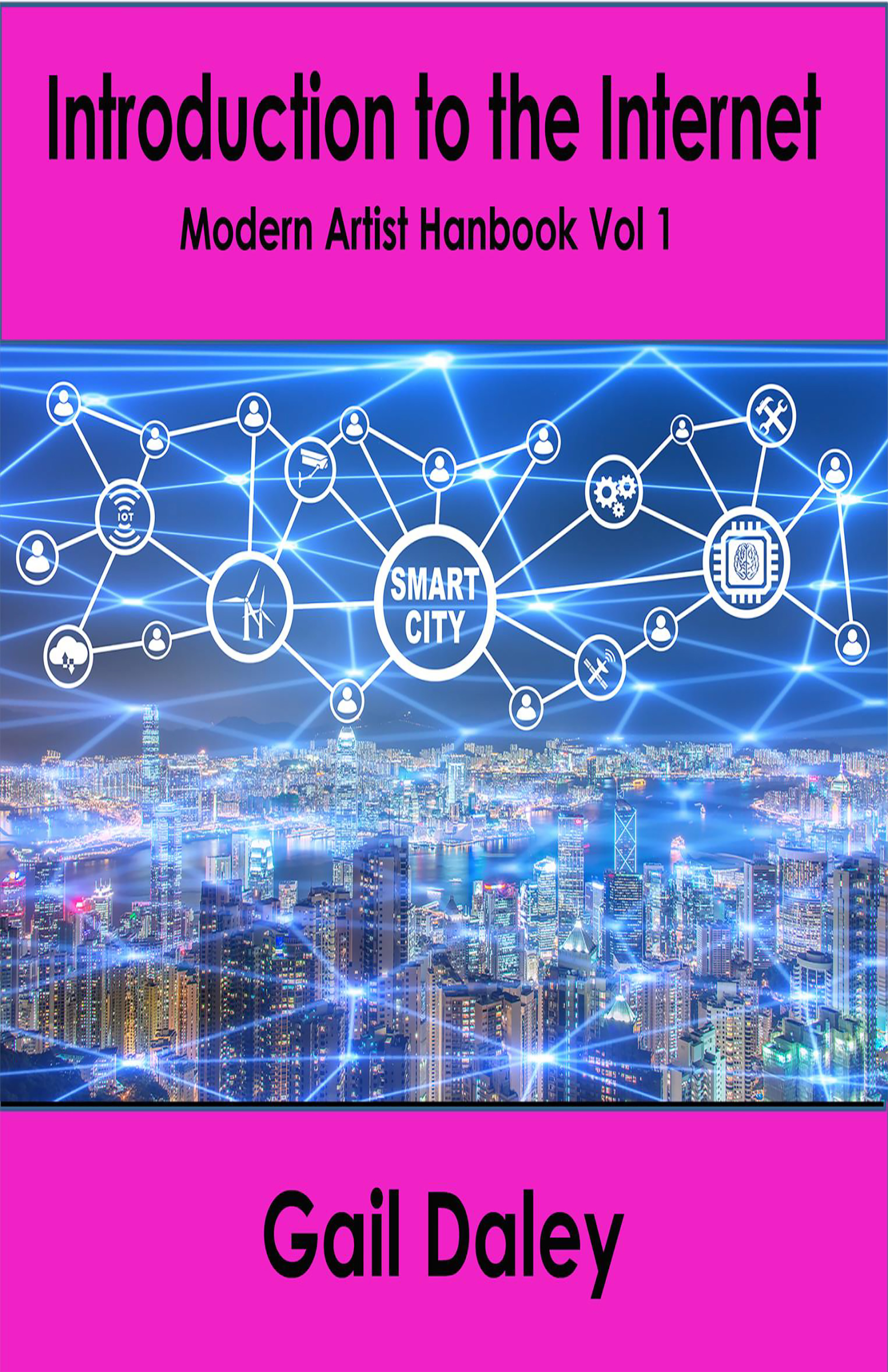 $ 5.99 USD
If you ever wanted to become a professional artist or writer or already a pro but never used the internet? This pamphlet will get you started. An Introduction To The Internet, introduces the terms and issues found on the internet for those of you just starting out or just beginning to take their first steps into the digital world.
Softcover pamphlet. Sales Tax and shipping apply
Modern Artist's Handbook - The Hard Stuff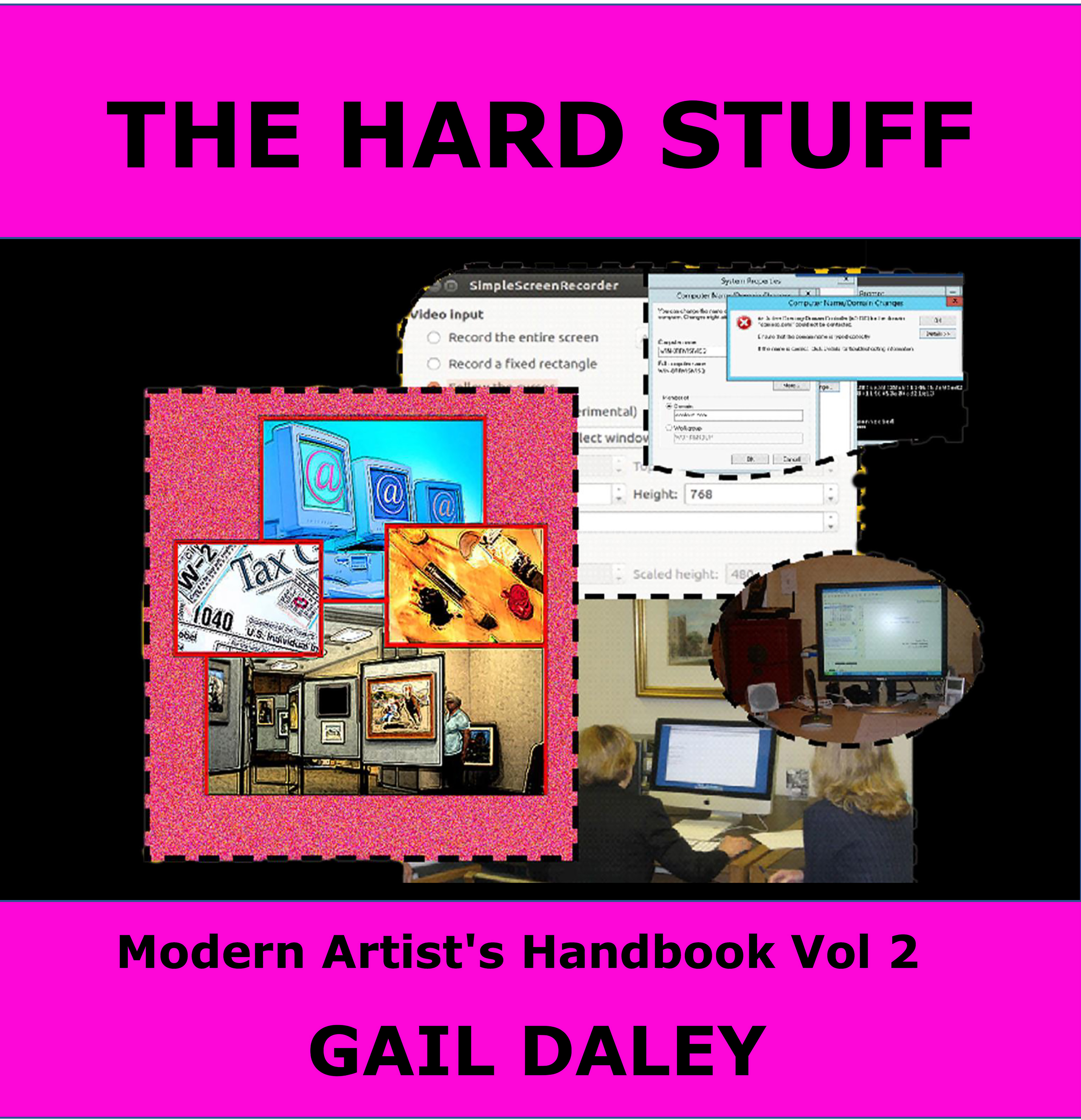 $ 5.99 USD
You don't have a business or accounting degree, but want to make money selling your stuff? The Hard stuff gives an overview of taxes, copyright issues licenses, insurance and record keeping in the Internet Age.
Soft Cover pamphlet. Sales Tax and shipping apply
Art Show Basics - Modern Artist's Handbook 3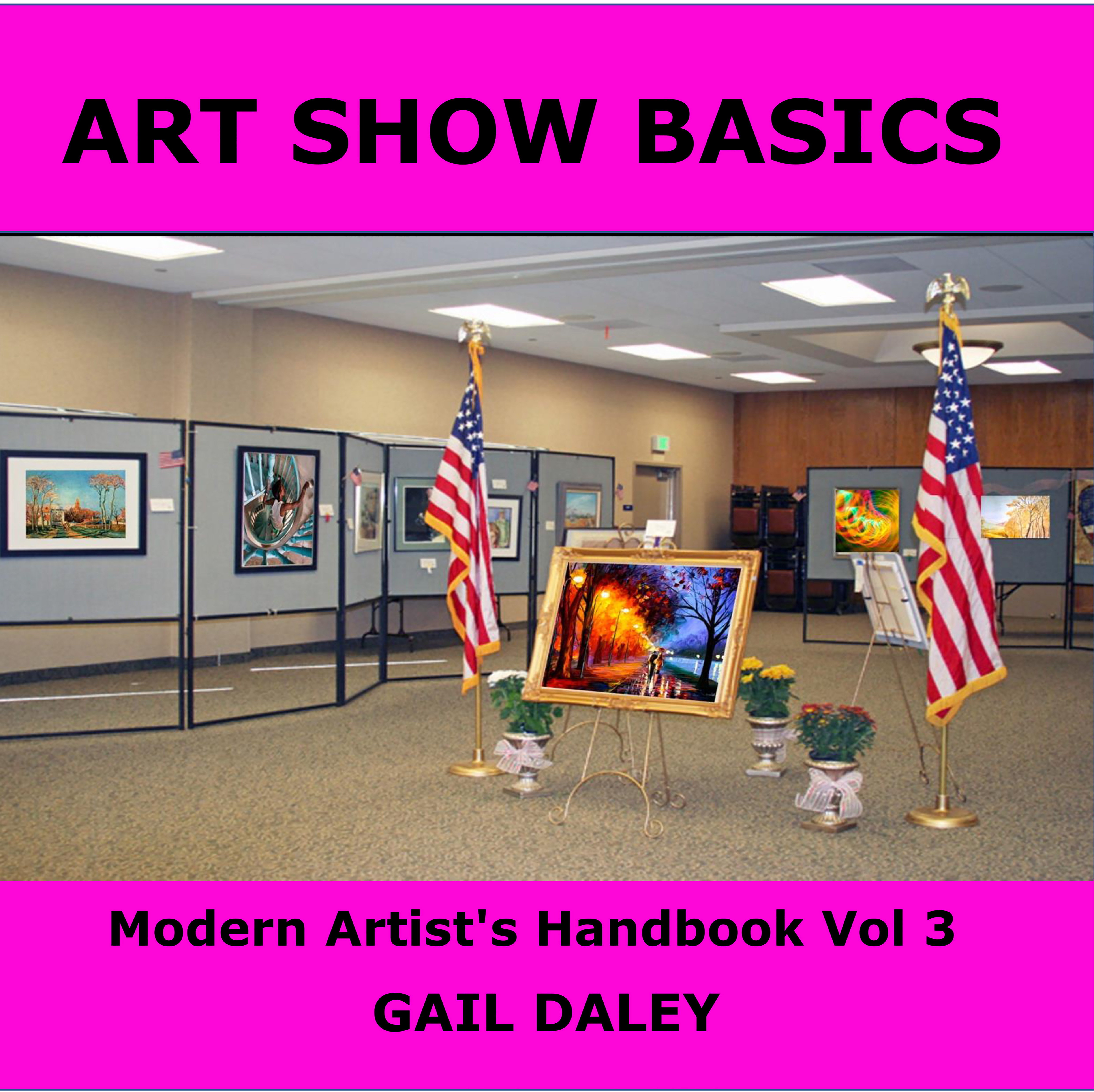 $ 5.99 USD
Overwhelmed by the idea of putting on your own art show? You are not alone. This pamphlet shows you how to successfully put on either a group art show or a solo show. Use it exactly as downloaded, or tweak it to suit your show. You will learn what things to budget for, find out what to look for in a venue for your show including a sample contract, a sample budget and how to hang the show for the maximum impact on your viewers.
Extensive information is included on topic such as selecting a judge, decorating the show space, how to create a prospectus for a group show, publicity, insurance and personnel needed for a successful show.
Soft Cover pamphlet. Sales Tax & shipping apply
Framing On A Budget - Modern Artist's Handbook 4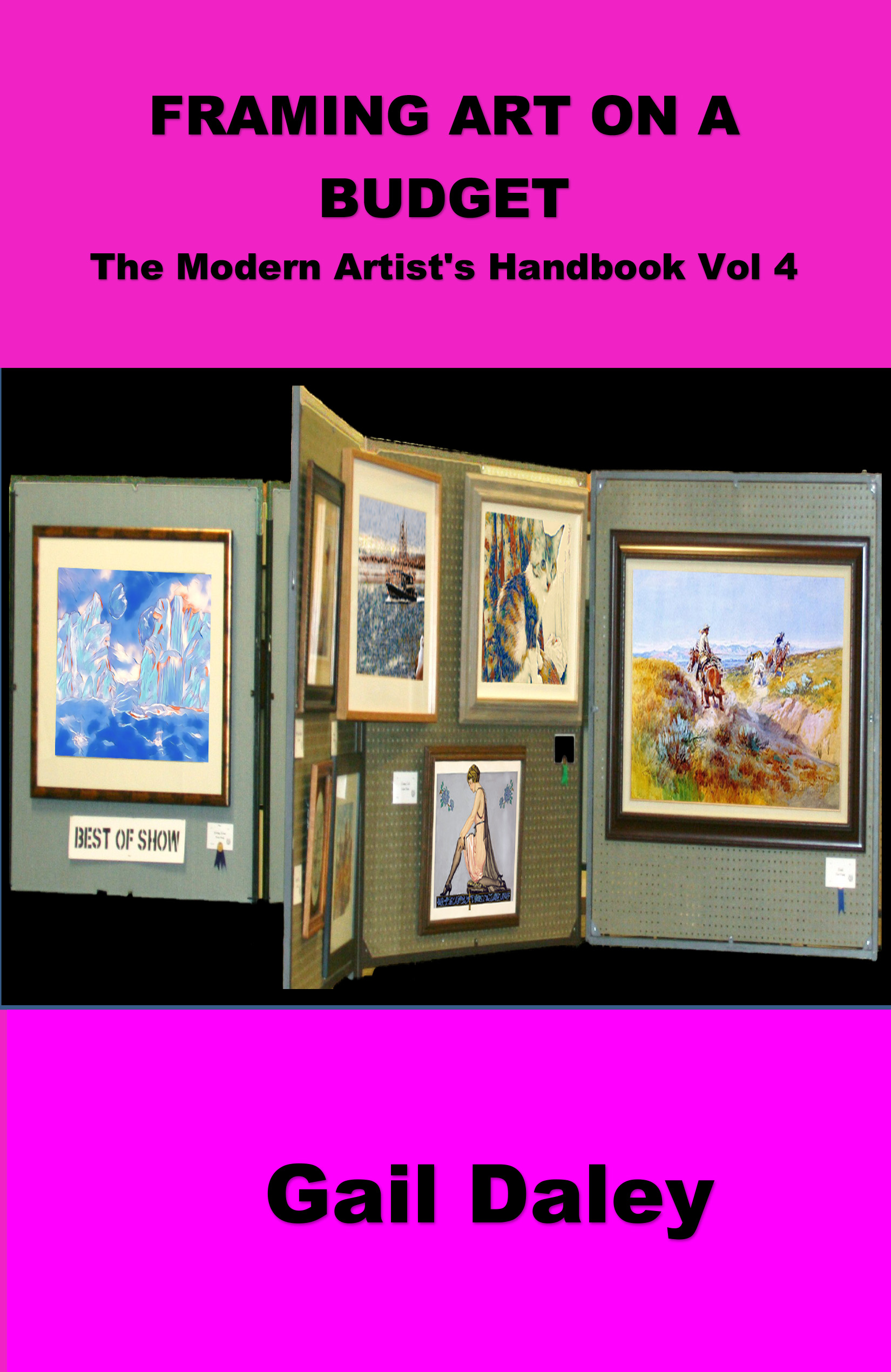 $ 7.99 USD
Have you just come back from taking your art to a professional framer? Suffering from sticker shock?

Yep, a good frame costs money. Sometimes a good frame will cost you more than your asking price for your work! Want to avoid fracturing your budget and still have great looking frames? You aren't alone. Read about framing in general and the difference between framing for the home décor market and art shows or galleries.

Want to learn some ways to make your art look good without fracturing your bank account? How and where to find inexpensive new frames or where to find used frames? Learn how to do some basic repairs so a used frame looks as good as a new one? Then this pamphlet is for you!

Format is a soft cover pamphlet.
Are You Making Money Yet? - Modern Artist's Handbook 5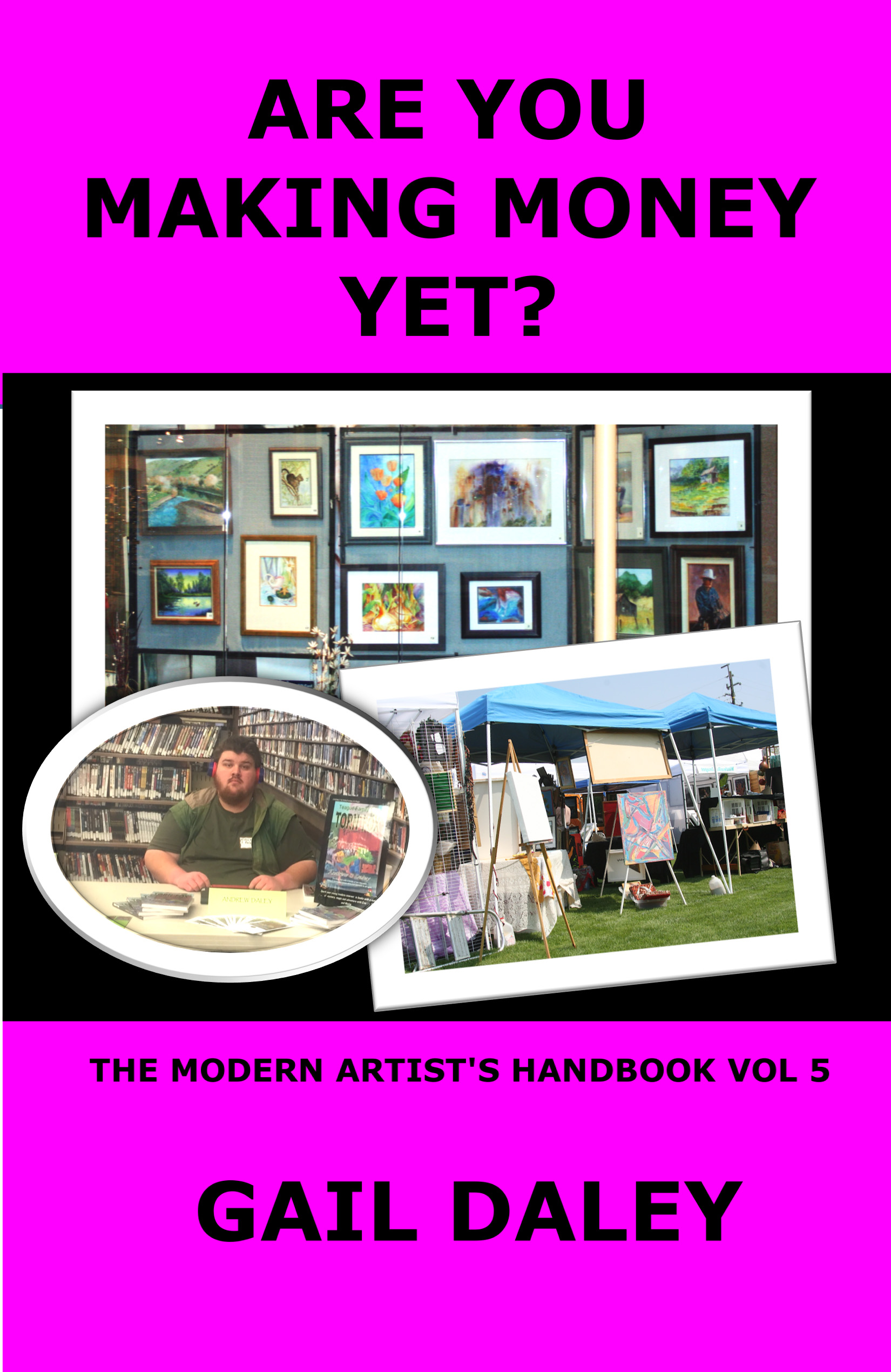 $ 7.99 USD
Tired of arriving at events only to realize you've left some vital item behind? Tired of going out every weekend and not selling enough to cover your expenses?
You are not alone. Learn how to pick better events to attend, how to tell in advance if you'll make money on sales. This pamphlet covers the basics of what to take with you, how to choose a good event, how to know if you are making money, and what pitfalls can be avoided.
Format is a soft cover pamphlet. Taxes and shipping will be added
© Copyright Gail Daley Writer