St. Antoni - The Forbidden Colony
Where Victorian Steampunk Meets The Wild West
A TRIBUTE TO JULES VERNE
Of all the writers I read as a child, the three who had the most impact on me as a writer were Jules Verne, Zane Grey and Edgar Rice Burroughs. St. Antoni is my tribute to Jules Vern. It combines the "anything goes" science thinking of the Victorian Age with the practical necessity of an old fashioned western. I plan several more books in this series. Book 2 will be The Enforcers, and it will feature Choloe and a man named Caleb Jones who is a real bad ass. Readers will learn more about Choloe and what prompted her to take up her unusal profession. The 3rd book doesn't yet have a title, but it will feature two characters who appear in the Enforcers.
Free Download - A Short History of St. Antoni




St. Antoni The Forbidden Colony
A combination of Victorian Steampunk and shoot-'em-up western with a touch of mystery. The Portal to the world of St. Antoni was illegal. The men and women who reached it were desperate to escape earth. They were thrown on their own resources to survive with no help from earths advanced technology. With grit and determination, they created a civilization as different from the earth they left behind as Mars is from Venus.
_____________________________________________


Warriors of St. Antoni
On the frontier world of St. Antoni, you got tough—or you got dead.
The Portal to the world of St. Antoni was unsanctioned. Immigrants who reached there were desperate to escape earth. They snuck through the Portal with only what they could carry and faced a new world without earths advanced technology. By sheer grit and determination St. Antonoians fought their way back from the stone age to the steam age.

City states were controlled by powerful families, and the outlying ranches and mines were held by guns and guts.


This is the story of sisters Bethany, Jeanne and Iris and their struggle to survive and hang on to their ranch and mine after a sniper cripples their father. Bethany marries a mercenary gunfighter to shield her family from a predatory neighbor. To her surprise, the marriage of convenience turns into a love match, but Bethany and Alec must learn to trust as well as love each other. Iris chooses an arranged marriage with a beloved old friend, but did Carlos marry her for love, or to please her father?
Jeanne and Samuel fall in love and run away to a distant city, but discover you can't escape who you are and Samuel is the son of her family's greatest enemy. Will their love be strong enough to survive when Samuel's father demands he return to the clan?

Learn More
Available November 1, 2020
Book 2 - The Enforcers


On Onthe frontier world of St. Antoni, you get tough
—
or you get dead.
Chloe was trained from a young age to be an assassin. She has been trying to reinvent herself as an investigator. But her first case has a huge complication: she finds Samuel Adams, the man she came to question, dead. He has a wicked knife sticking out of his groin. She didn't do it, but given her history, who will believe her? It looks as if her past is about to catch up with her.
Caleb Jones is a man with a violent past. After his family was destroyed in a city state war, he went to work at the only job he knew. As an enforcer for the Marshals of the Federated City States of St. Antoni he hunts killers. He came to Junction City looking for a serial killer. Instead he finds Chloe. Is she the killer he's looking for or the woman who can replace everything he lost?
Click Here to get advance notice of Gail's new book releases
C
Coming Soon
Pre-Order for Delivery
January 1, 2021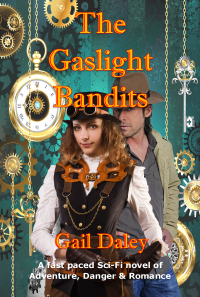 A fast-paced Sci-Fi novel of adventure, mystery and romance on the forbidden colony of St. Antoni. Francis is thrust into danger when she is drafted to help investigate a series of train robberies.
After their crazy father killed their mother, sixteen-year-old Francis Dominique became solely responsible for the welfare of her two young sisters. The colony of St. Antoni is a rough place; a woman needs to be smart and tough enough to protect, feed and clothe herself or find a man to do it for her. Francis opted for the first choice, and went to work for the Enforcers, St. Antoni's elite law enforcement bureau. She tries desperately to keep her mind on her work and not dream about her boss, the handsome, devil-may-care Hercule Jones.
When she is drafted into taking part in an investigation, she finds herself embroiled up to her neck trying to identify the outlaws robbing the trains connecting St. Antoni's City States. Then the investigation turns dangerous and personal problems begin piling up. Her father escapes from the Asylum for the criminally insane, and a lawyer with a custody writ arrives intending to drag her and her sisters to Copper City to live with grandparents who have ignored their existence until now. Can Francis keep her sisters safe and catch the outlaws without being killed herself?
Pre Order Now Learn More:https://books2read.com/u/maglajz
Look For It April 1, 2021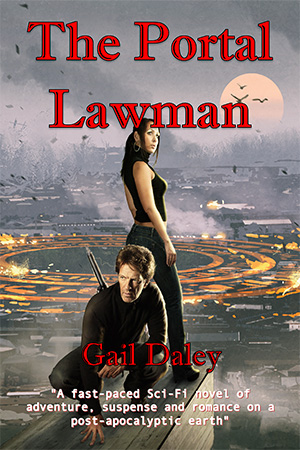 A fast-paced Sci-Fi novel of adventure, mystery and romance in a dystopian society. Trapped in a web of deceit and danger, Lacey makes a dangerous alliance with the local Militia to keep her family safe in the police state that rules Earth.
The end of the world had come and gone. Those who remained after the apocalypse did whatever it took to keep themselves alive and preserve what civilization survived. They broke laws and flouted the will of draconian government agencies who was supposed to keep anarchy at bay and instead established a police state.
Lacey Delaney, head of Laughing Mountain's Portal committee, defied the government by helping Portal Runners smuggle desperately needed goods, services and people to the Forbidden Colonies.
Malachi Sullivan, sub-commander of the free militia, was one of those who held the line against the tyranny of an overbearing government desperately trying to regain control against spreading anarchy.
Lacey and Malachi had been in love once, but a treacherous woman broke them apart. Now they must put the past behind them and learn to work together to save their town and preserve the secret of the Portal to the Forbidden Colonies.
Still working on Portal. Estimated release date is May 2021
The next book in the series is Cradle of Fire: A fast-paced Sci-Fi novel of adventure, suspense and romance. A desperate young woman takes a dangerous gamble, emigrating to a forbidden colony to save herself and her young brother and sister after they witness a crime lord kill three people.
I try to release my books about 3 months apart so this one is due for release in July 2021.