A TRIBUTE TO
Jules Verne, Edgar Rice Burroughs, & Zane Grey
Of all the writers I read as a child, the three who had the most impact on me as a writer were Jules Verne, Zane Grey and Edgar Rice Burroughs. St. Antoni is my tribute to Jules Vern and Zane Grey. It combines the "anything goes" science thinking of the Victorian Age with the practical necessity of an old fashioned western. I plan several more books in this series. Book 2 The Enforcers, will feature Chloe and a man named Caleb Jones who is a real bad ass. Readers will learn more about Choloe and what prompted her to take up her unusal profession. The 3rd book Gaslight Bandits, features two characters who appeared in the Enforcers. The 4th book, The Portal Lawman, tells the Story of St. Antoni from the other side. It takes place on a dystopian earth in the town where the St. Antoni Portal is located. In book 5, Cradle of Fire, returns to St. Antoni but some of it does take place on earth. Book 5, The Clone Initiative, returns to Earth and explores the status of Clones rights.
Over the years, I've constantly changed or updated my book covers. This is not to fool readers into buying the book a second time, but to keep the covers from being outdated as the mores for Sci-Fi and Fantasy covers changes. Recently a fan asked me for a list of the changes, as she was experiencing difficulty telling which books she had already purchased. I've created a separate page with the old and new covers. If you are confused as well,
click here
Free Download - A Short History of St. Antoni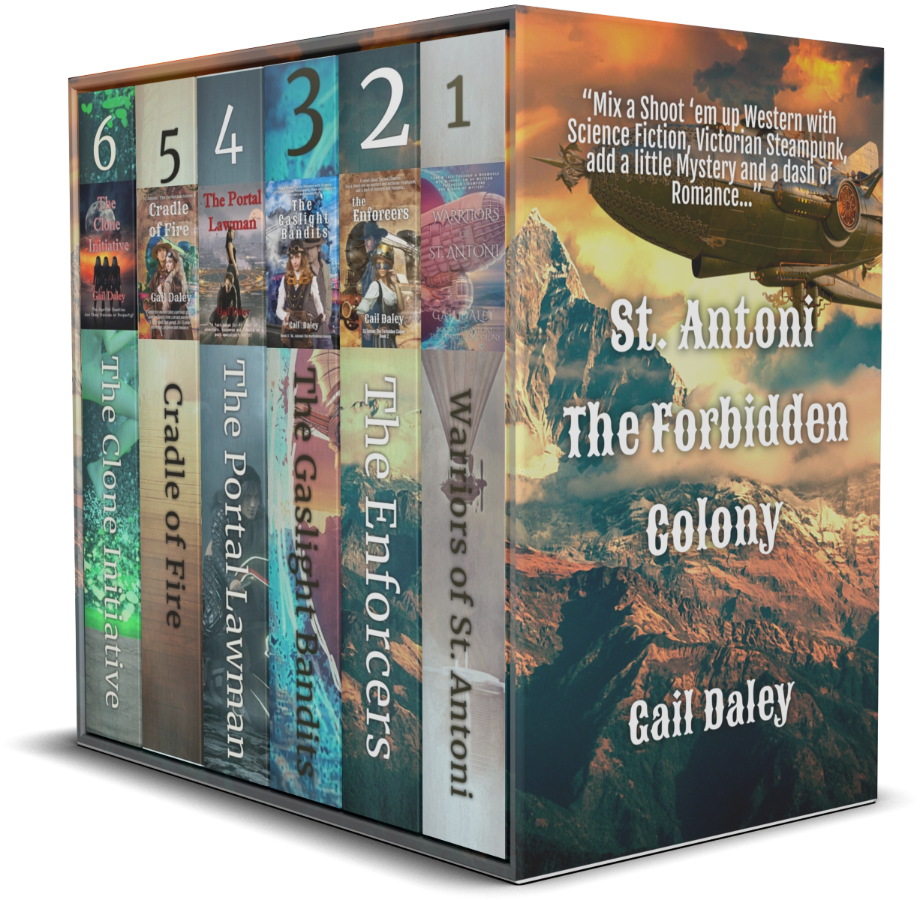 St. Antoni The Forbidden Colony
"Recipe for the St. Antoni Series: Take a trip through a Wormhole. Mix a Shoot'Em Up Western, Victorian Steampunk, Post-Apocalyptic Sci-Fi and a dash of mystery…"
The Portal to the world of St. Antoni was illegal. The men and women who reached it were desperate to escape earth. They were thrown on their own resources to survive with no help from earths advanced technology. With grit and determination, they created a civilization as different from the earth they left behind as Mars is from Venus.
_____________________________________________
BOOK 1 - WARRIORS OF ST. ANTONI
"A novel of survival and finding love where you least expect it ."
"A combination of shoot-'em-up western and Victorian Steampunk."
"A fast-paced Sci-Fi novel of adventure and romance on an alien planet."
After a sniper cripples their father, Sisters Bethany, Jeanne and Iris struggle to survive and hang on to their ranch and mine.
Bethany marries a mercenary gunfighter to shield her family from a predatory neighbor. To her surprise, the marriage of convenience turns into a love match, but Bethany and Alec must learn to trust as well as love each other.
Iris chooses an arranged marriage with a beloved old friend, but did Carlos marry her for love, or to please her father?
Jeanne and Samuel fall in love, but Samuel is the son of her family's greatest enemy. To be together, they run away to a distant city, but discover you can't escape who you are. Will their love be strong enough to survive when Samuel's father demands he return to the clan?
Learn More: https://www.books2read.com/u/mdKpxl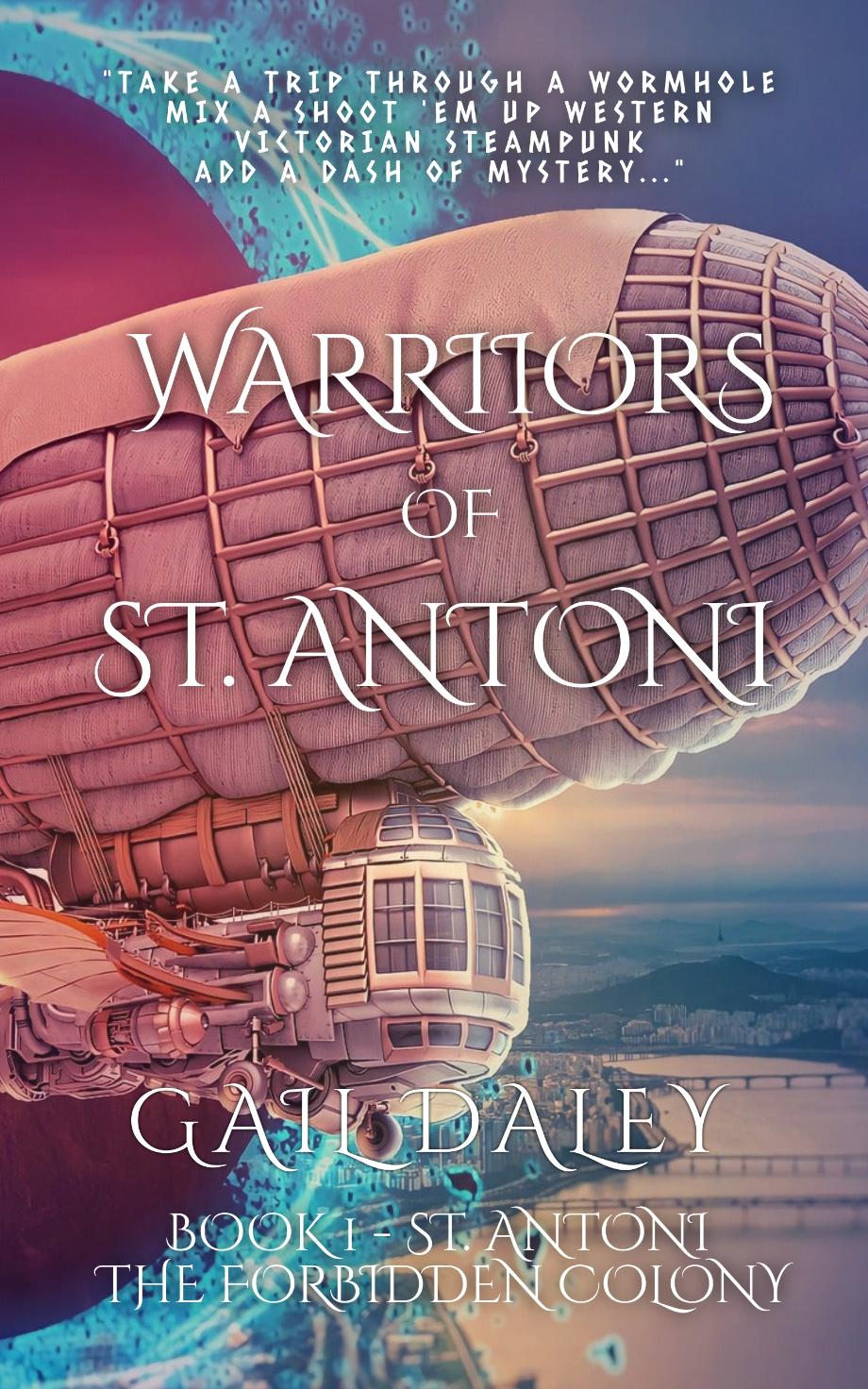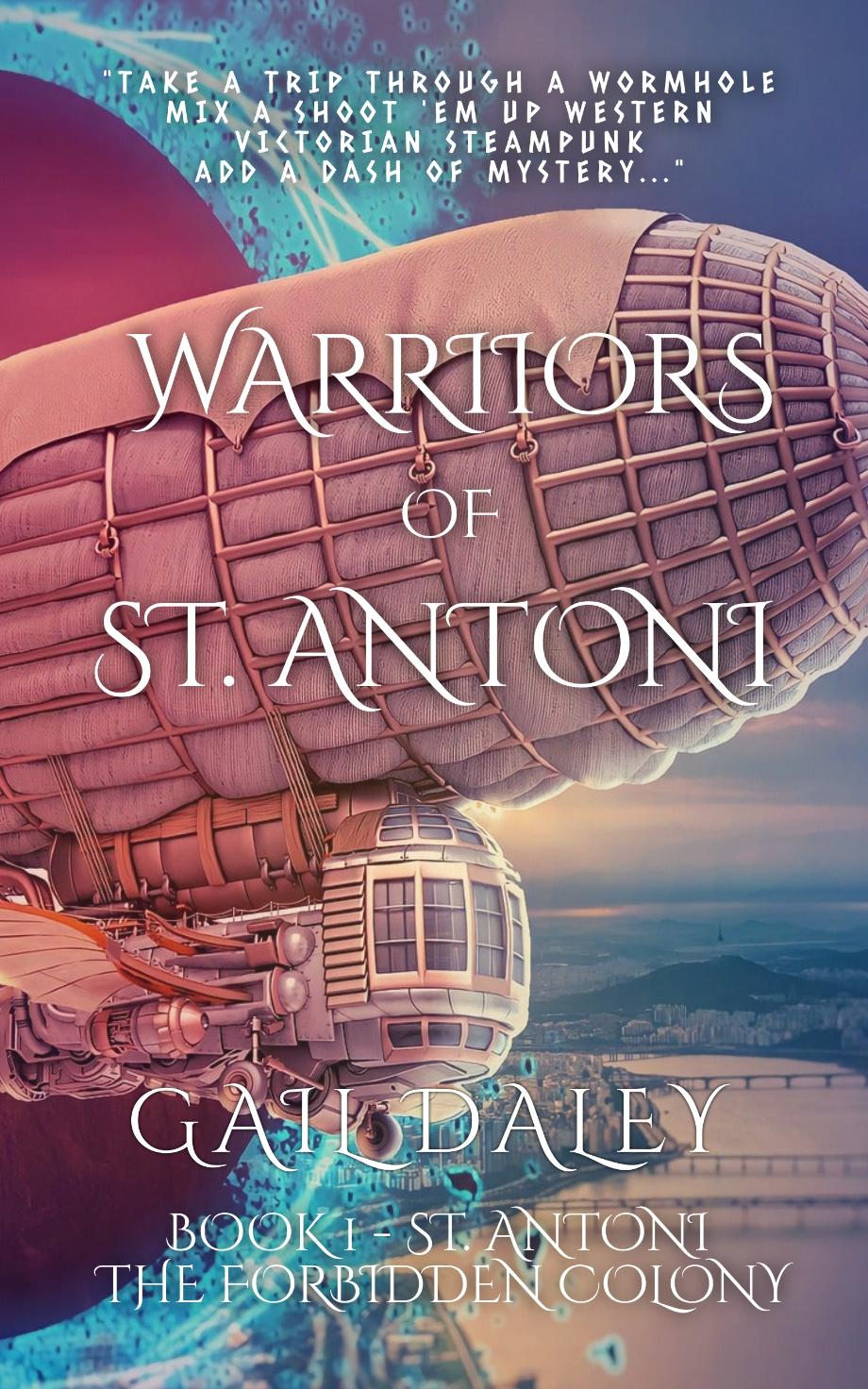 WARRIORS OF ST. ANTONI REVIEWS
On Kobo by Vickie H. on December 29, 2021
This story is a little bit wild west, fantasy, romance and technology - kind of steam punk. It was easy to follow the story lines.
by Vickie H. on December 29, 2021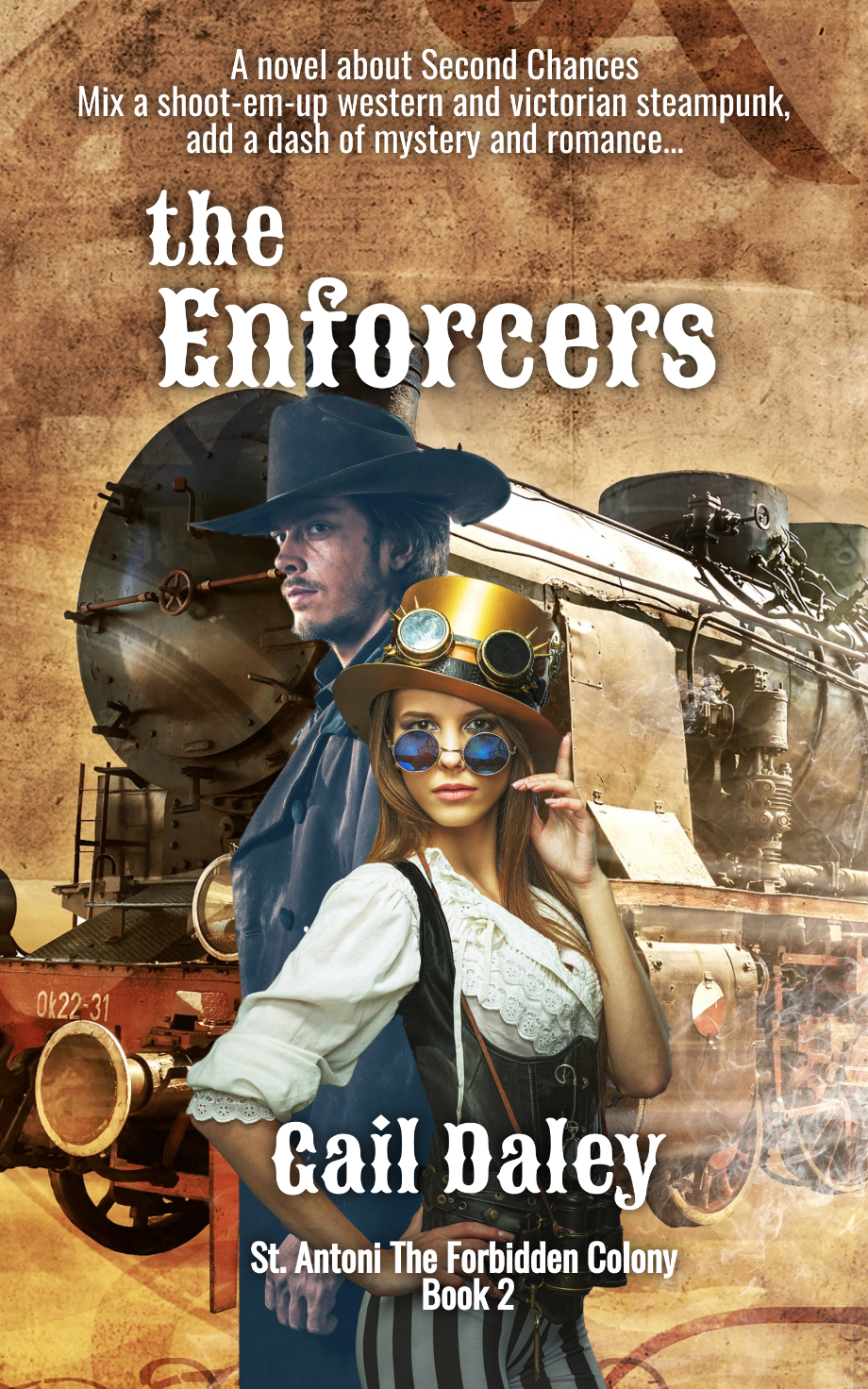 Book 2 - The Enforcers
"Mix a Shoot'em-up western with Victorian Steampunk, add a dash of mystery and you have this series."

"This is novel about second chances."

"A fast-paced Sci-Fi novel of adventure, mystery and romance."
"A former assassin for hire plays a deadly game of cat and mouse with a serial killer on the Forbidden Colony planet of St. Antoni"
Chloe was trained from a young age to be an assassin. Since her move to Junction City, she has been trying hard to reinvent herself as an investigator. But her first case has a huge complication: she finds Samuel Adams, the man she came to question, dead. He has a wicked knife sticking out of his groin. She didn't do it, but given her history, who will believe her? It looks as if her past is about to catch up with her.
Caleb Jones is a man with a violent past. After his family was destroyed in a city state war, he went to work at the only job he knew. As an Enforcer for the Marshals of the Federated City States of St. Antoni, he hunts killers. He came to Junction City looking for a serial killer. Instead he finds Chloe. Is she the killer he's looking for or the woman who can replace everything he lost?
Learn More: https://books2read.com/u/4AKLE0
Reviews
Shelley Reviews the Enforcers
3 and 1/2 stars
"A gripping crime thriller with a hint of sci-fi and romance. A strong protagonist who marks her presence both in the novel as well as in readers' memories." Shelleyreviews.com
https://shelleyreviews.com/book-reviews/the-enforcers-book-review/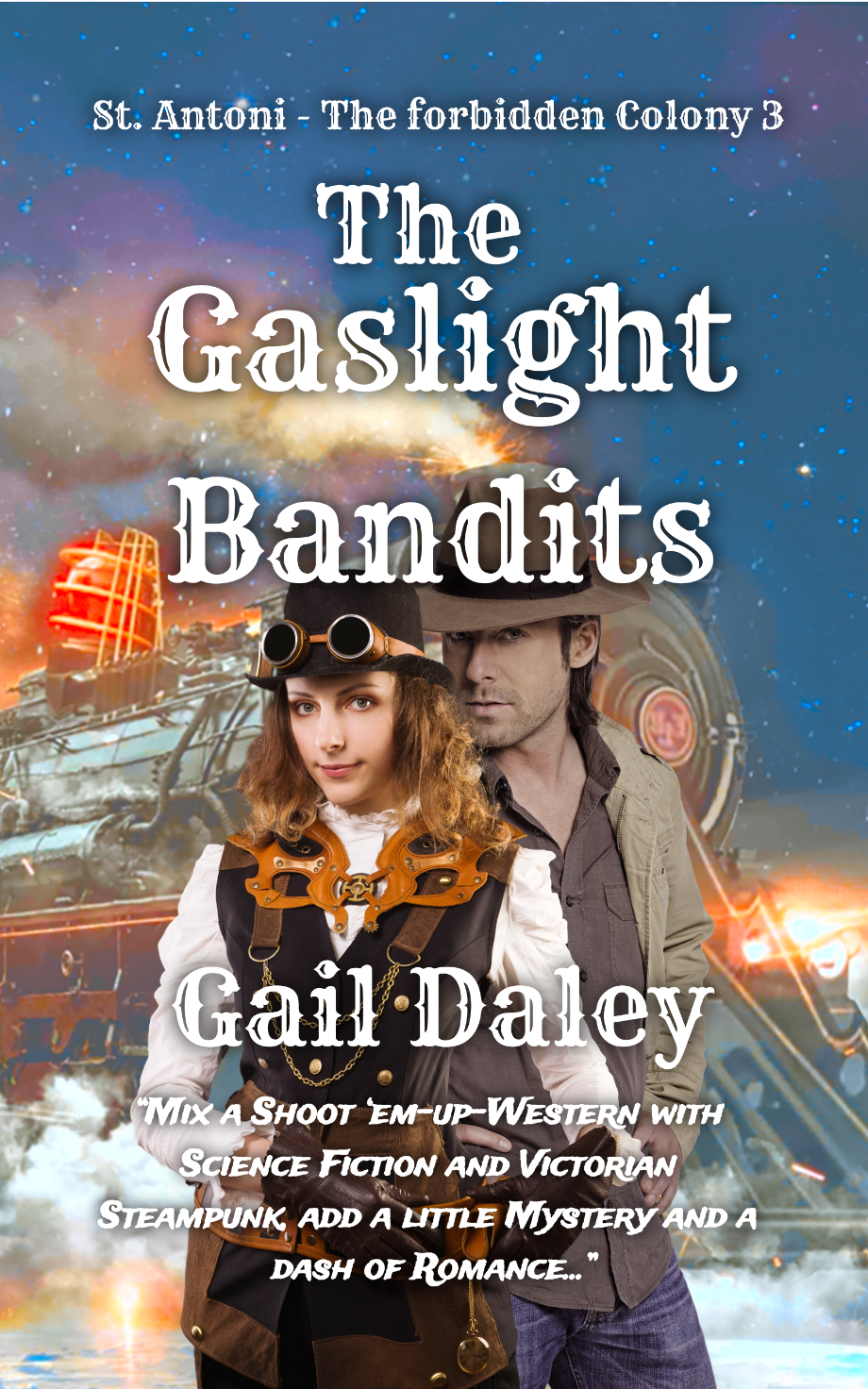 A fast-paced Sci-Fi novel of adventure, mystery and romance on the forbidden colony of St. Antoni.
"A young woman is thrust into danger when she is drafted to help investigate a series of train robberies."
"Mix a Shoot'em up western with Victorian Steampunk and add a dash of mystery and you have this series."
After their crazy father killed their mother, sixteen-year-old Francis Dominique became solely responsible for the welfare of her two young sisters. The colony of St. Antoni is a rough place; a woman needs to be smart and tough enough to protect, feed and clothe herself or find a man to do it for her. Francis opted for the first choice, and went to work for the Enforcers, St. Antoni's elite law enforcement bureau. She tries desperately to keep her mind on her work and not dream about her boss, the handsome, devil-may-care Hercule Jones.
When she is drafted into taking part in an investigation, she finds herself embroiled up to her neck trying to identify the outlaws robbing the trains connecting St. Antoni's City States. Then the investigation turns dangerous and personal problems begin piling up. Her father escapes from the Asylum for the criminally insane, and a lawyer with a custody writ arrives intending to drag her and her sisters to Copper City to live with grandparents who have ignored their existence until now. Can Francis keep her sisters safe and catch the outlaws without being killed herself?
Buy Now: https://books2read.com/u/maglajz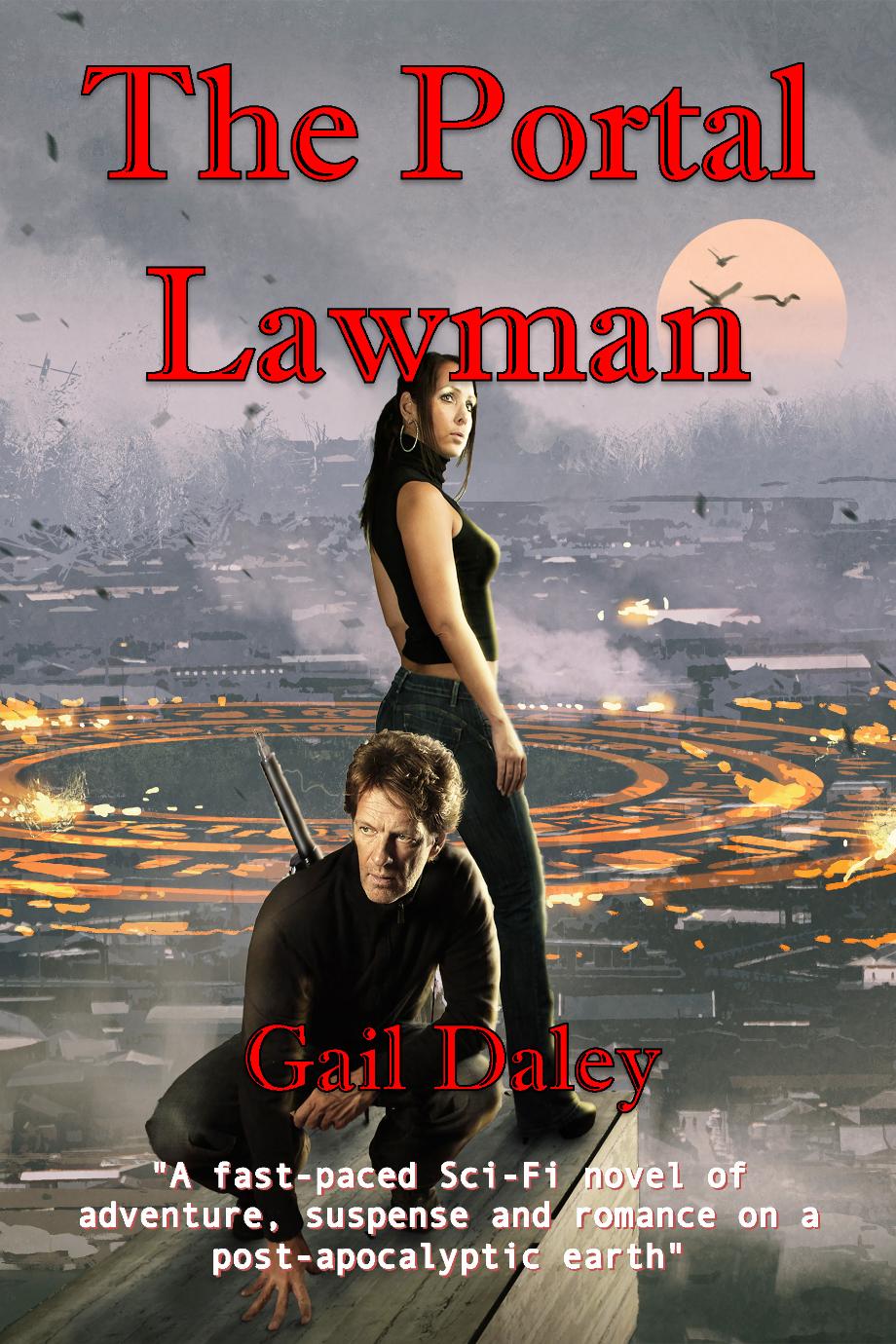 "A fast-paced Sci-Fi novel of adventure, suspense and romance on a post-apocalyptic earth. Trapped in a web of deceit and danger, two young women make dangerous alliances."
The end of the world had come and gone. Those who remained after the apocalypse did whatever it took to keep themselves alive, and to preserve what civilization survived. Sometimes they broke laws and defied the will of the draconian government agencies who were supposed to keep anarchy at bay.
Lacey Delaney, head of Laughing Mountain's Portal committee, flouted government edicts by helping Portal Runners smuggle desperately needed goods, services, and people to the Forbidden Colonies.
Joyce Higgins has a stalker who is terrorizing her and her young sisters. When she and her sisters are accused of being clones by the Parallel Genetic Agency, they take refuge in Laughing Mountain. A Clone isn't considered a human being with rights under the law, but the property of whoever created it. Deputy Mark Connors says he can protect them, but can he?
Malachi Sullivan, sub-commander of the free militia, is one of those who hold the line against the tyranny of an overbearing government aided and abetted by powerful industrial giants.
Lacey and Malachi had been in love once, but a treacherous woman broke them apart. Now they must put the past behind them and work together to save their town and preserve the secret of the Portal to the Forbidden Colonies.
THE PORTAL LAWMAN REVIEWS
Portal Lawman New Goodreads review by Jstiles
8/8/2021
5 stars
Gail Daley has created a post multiple pandemic Earth and multiple other worlds with their own unique societal developments. The Portal Lawman is set in a small town on Earth years after the pandemics. The worlds she has created are truly believable and her writing style is a pleasure to enjoy. I do not believe in reiterating storylines. I leave it to the authors to tell their stories. I enjoyed this one. It is not staid, the ethics of the various characters are clear and the development of the people within these worlds are easily accepted by the reader. These are not empty shells but real people with whom the reader can empathize. I heartily recommend this book to any and all readers! I received an ARC and this is my honest opinion of this novel.
"Recipe for the St. Antoni Series: Take a trip through a Wormhole to another world, then Mix a Shoot'Em Up Western, Victorian Steampunk, Post-Apocalyptic Sci-Fi and add a dash of mystery…"
"A must read. A fast-paced Sci-Fi novel of adventure, suspense and romance."
A desperate woman takes a perilous gamble to save her family from a brutal murderer.
They weren't supposed to see the murders or discover their 'kindly' new guardian had slaughtered three people. But they did see it. Jade knows they can't go to the police—he owns them. The only choice is to run and hide; but where can a woman and two teenagers go to be safe from a crime lord?
Desperate, she risks taking her family through an illegal Portal to St. Antoni. In the Forbidden Colony they are safe from their former guardian. But she may have jumped from the frying pan into the fire. St. Antoni is a dangerous haven; it's a planet whose citizens created a society poles apart from the dystopian earth they fled. With almost no resources, Jade needs a way to support herself and her siblings in this strange world.
When she is offered a job as an illustrator for a book company owned by the elderly Hortense Jones, Jade jumps at it. Then she meets Hortense's nephew, the fascinating Levi Jones. He is an Enforcer with a dangerous reputation as a gunman. Loyalty to the kindhearted Hortense causes Jade to be drawn into the deadly feud between the Jones and the Smith families. Can she find happiness on St. Antoni and keep her family safe?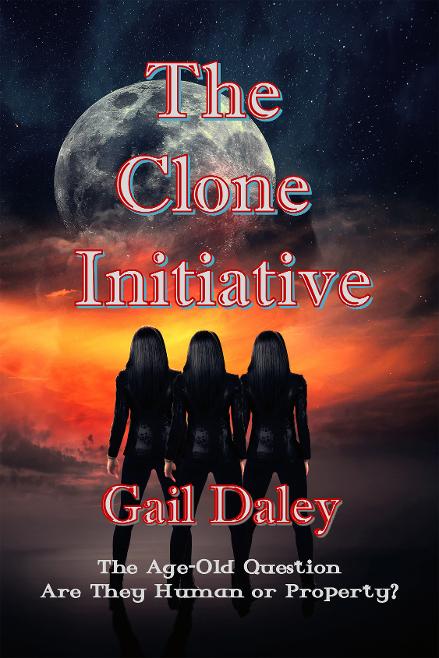 The Clone Initiative
Book 6 – St. Antoni the Forbidden Colony
"A fast-paced Sci-Fi thriller of adventure, mystery and romance in a post-apocalyptic dystopian society."
Are Clones Human or Property? Do you believe there are disposable people?
Is a clone the property of the creator, or are they simply artificially created humans? Tally is one of three identical triplets. Are she and her sisters artificial beings? Clones created in a lab but raised as human girls? She had always been told they are human, but are they? She needs to know Now, because the battle over the humanity of artificially created people is heating up.
Tally and her sisters are caught in the middle of the battle; a clone manufacturing company is attempting to claim Tally and her sisters as their property.
Escaped Clones are attacking isolated farms and houses and the state legislature is considering a law to make everyone submit to a DNA scan to screen for Cloning markers.
When she rescues cloned babies after a massacre she must decide for herself what she believes about what makes a person human.