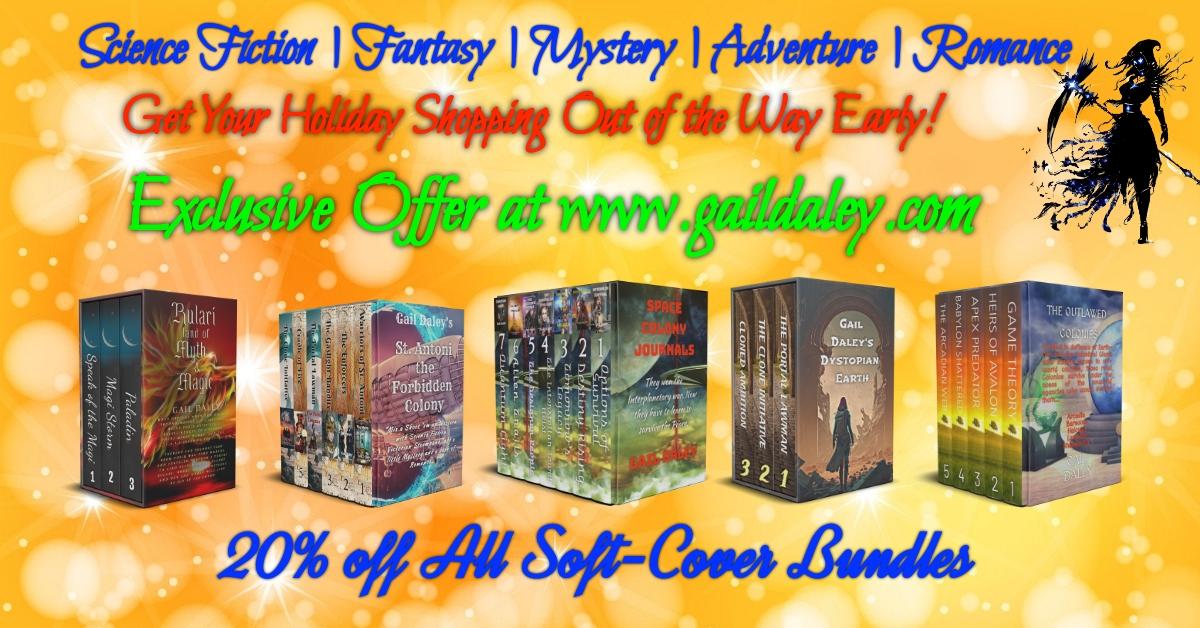 SPACE COLONY JOURNALS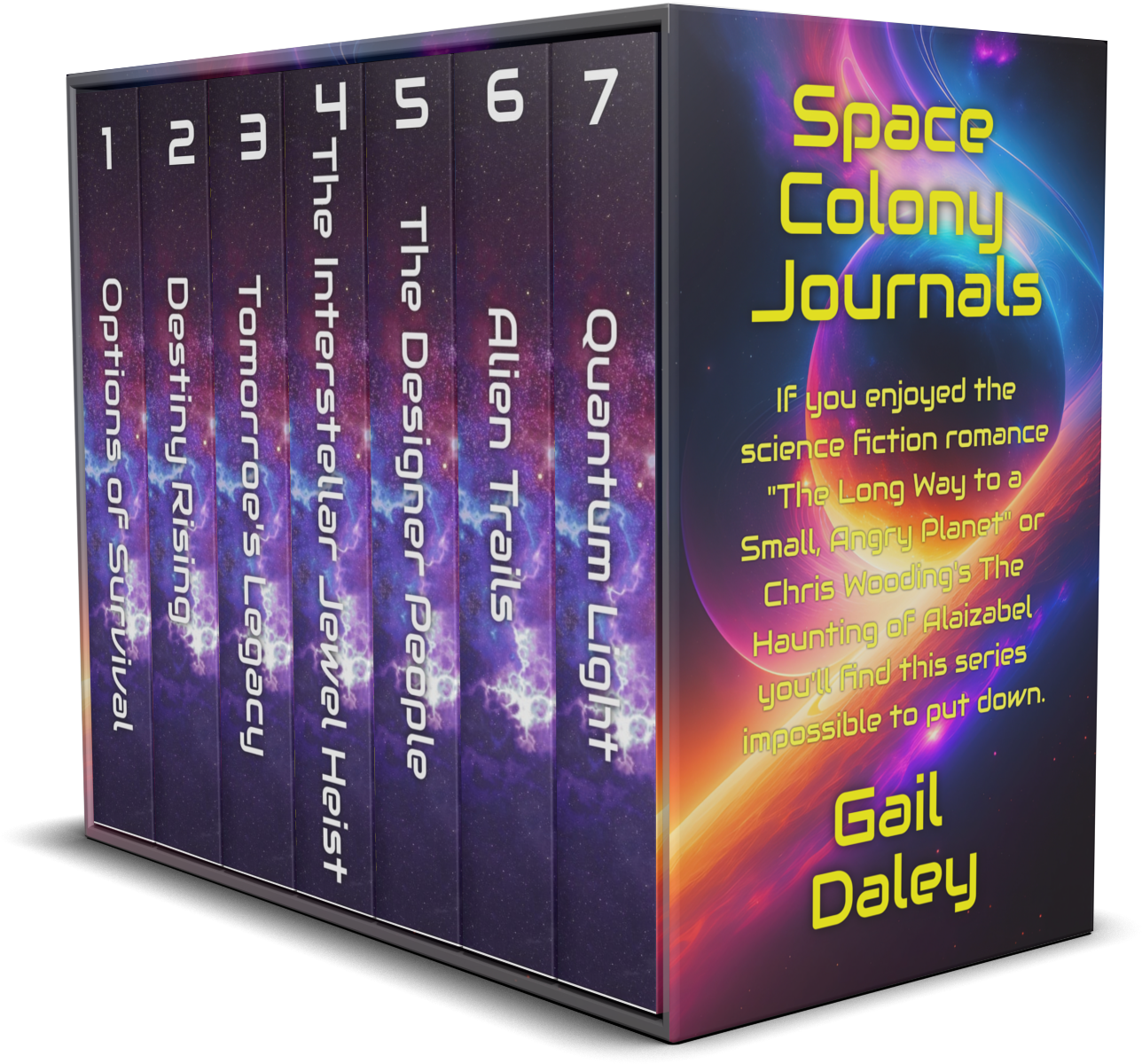 CLICK HERE TO BUY
SPACE COLONY JOURNALS
The Will To Survive Is Mankind's Greatest Weapon. They won an interplanetary war; now they must survive the peace. Welcome to the far future. The Space Colony Journals are an epic tale of a family's struggle to survive on a colony in space. These are the courageous women and dangerous men who carve a home on the Alien World of Vensoog
ST. ANTONI - THE FORBIDDEN COLONY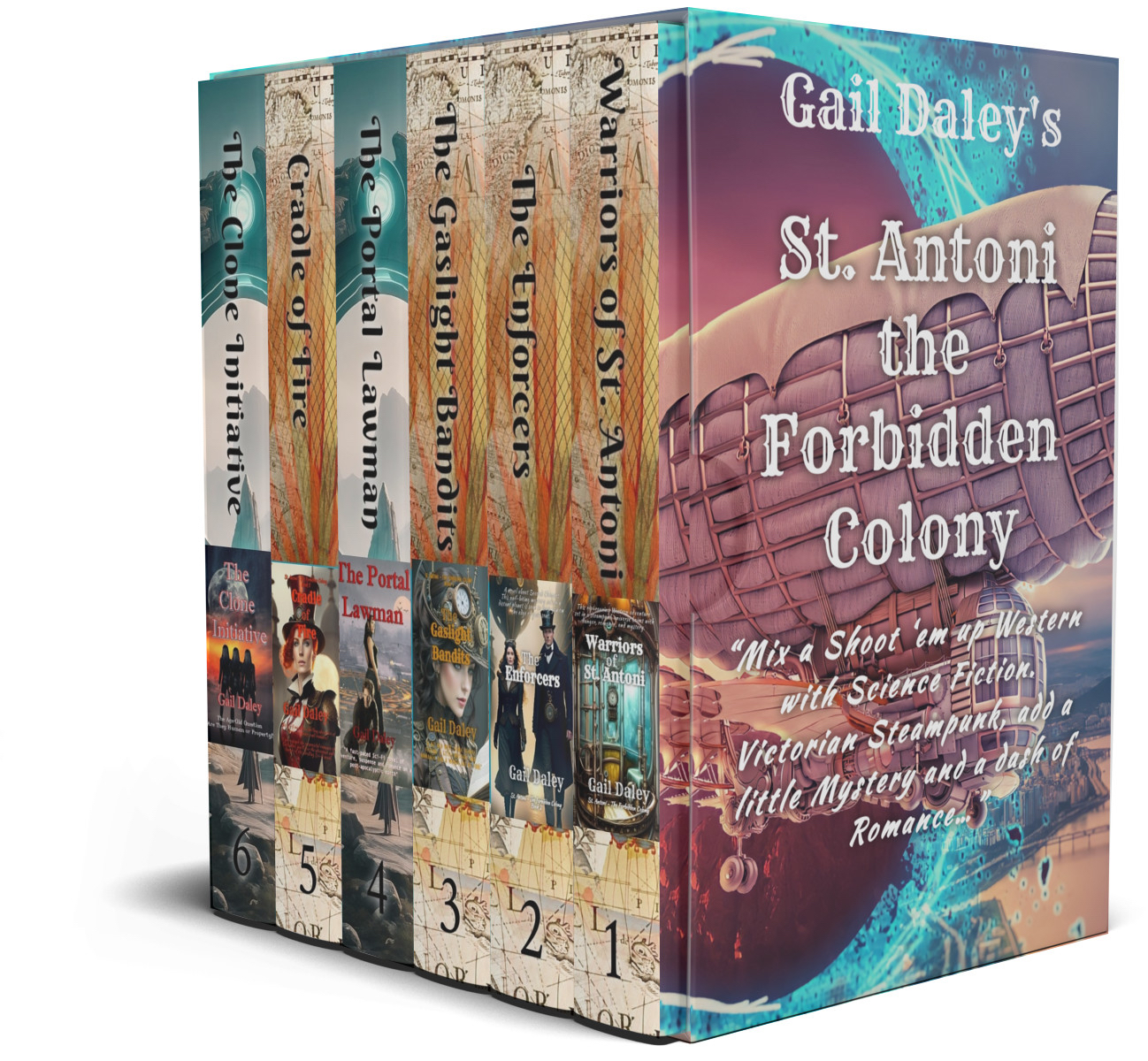 "Mix a Shoot 'em up Western with Science Fiction, Victorian Steampunk, add a little Mystery and a dash of Romance…"
The Portal to the world of St. Antoni was illegal. Men and women who reached it were desperate to escape earth. Arriving Colonists faced an alien world with what they could bring in one trip. Once through the Portal there would be no help from earths advanced technology, and no return. With grit and determination, they created a civilization as different from the post-apocalyptic earth they left behind as Mars is from Venus.
MAGI OF RULARI TRILOGY
RULARI LAND OF MYTH & Magic
What happens when two highly technological civilizations bring their Artificial Intelligences to a planet where Magic works, and the A.I.s learn to use it? Terrans and Sekhmet fled from their war-torn worlds and traveled through a portal to find refuge on the planet Rulari, where magic works and men and women will live or die by the sword.
"An intriguing mixture of Fantasy and Science Fiction."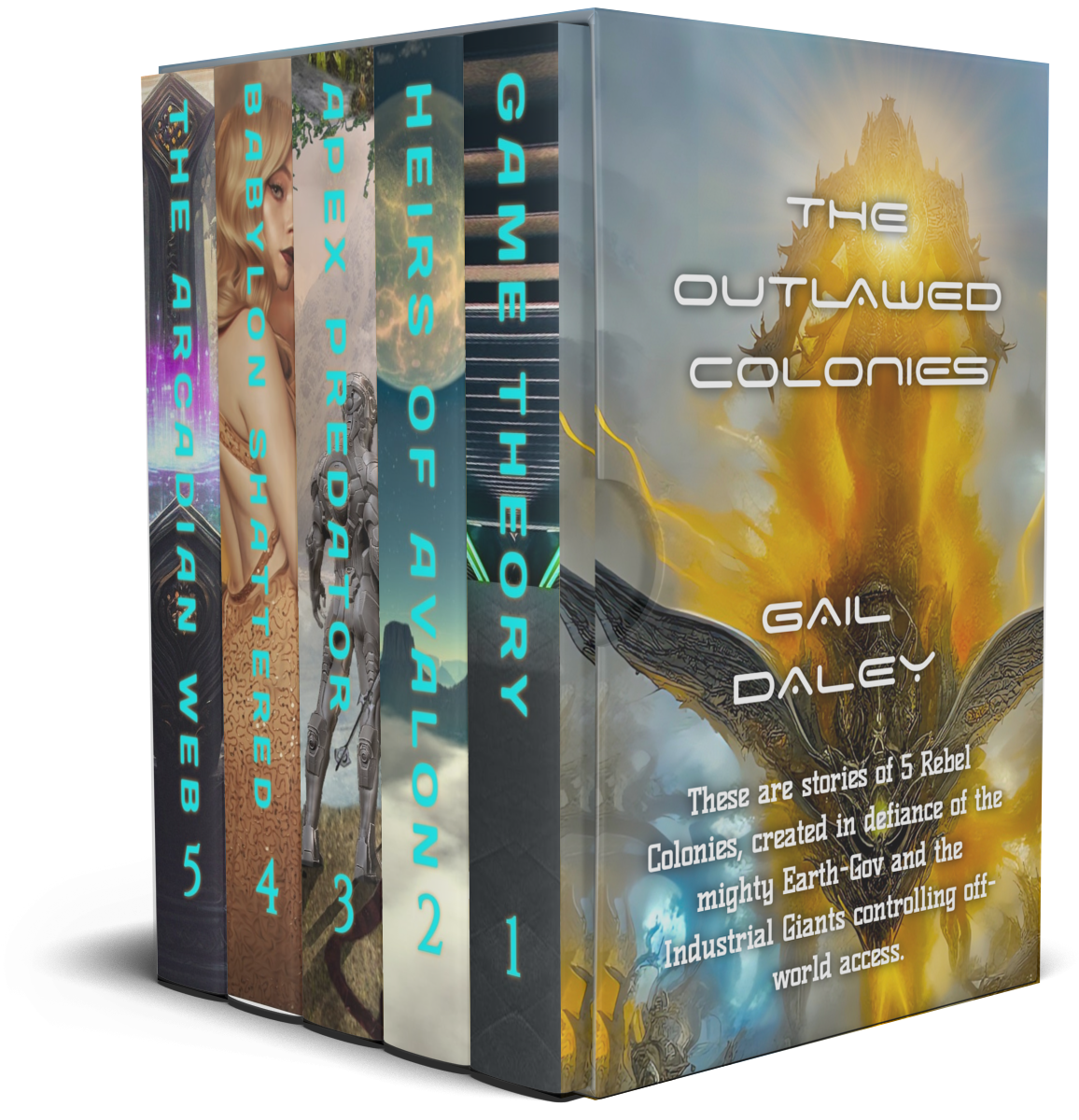 Created in defiance of Earth-Gov and the Industrial Giants who control access to off-world colonies, these rebel Colonies survive under the noses of the powerful agencies who would destroy them…
Gail's dystopian Earth
WOW! Who would ever have thought I would write dystopian books? I certainly didn't. Most novels written for that genre seem to be full of angst, and typify what I consider the "gloom, despair, and agony on me" syndrome. Frankly, a little bit of that goes a lo-o-ng way with me. Yes, I do think there is room in that genre for stories with a more positive outlook. I'm a HEA writer (happily ever after). We'll see. I've just started exploring that particular sub genre of sci-fi, so it's yet to be decided if readers agree with me. As of this moment, I actually have two books in this sub-genre published, and the third is available on Pre-Order.
s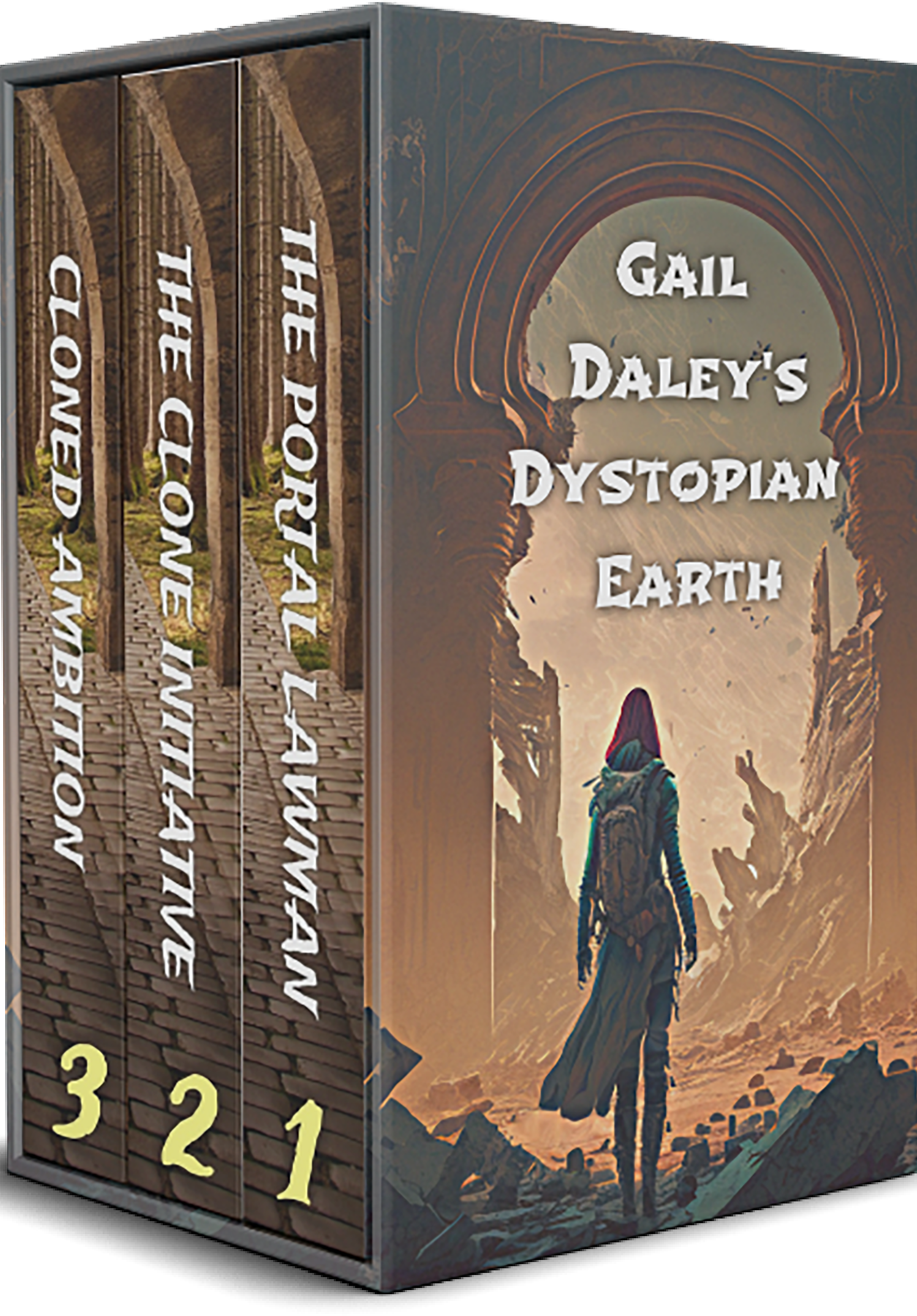 The Portal Lawman
Trapped in a web of deceit and danger, two young women must make dangerous alliances to battle the tyrannical government and powerful industrial giants who control the post-apocalyptic society in which they live.
The Clone Initiative
This fast-paced Sci-Fi thriller takes readers on an adventure through a post-apocalyptic, dystopian society, full of mystery, romance, and a hard-hitting ethical dilemma.
Cloned Ambition*
"A Modern twist on the story of David and Bathsheba." Set in a future where clones are seen as second-class citizens and Normals are threatened by their own creation, Scarlet and her Mate Dagmar must fight for their own freedom and the survival. Scarlet was created to be the vessel for an aging actress's brain when she reached maturity. But when her creator dies before the transplant can take place, Scarlet is sold to a clone breeding farm, and only narrowly escapes with the help of a few kind college students.
*Cloned Ambition is currently on Pre-order. If you purchase the set before Nov 3o, 2023, This book will be shipped separately
https://books.bookfunnel.com/dystopia-craving