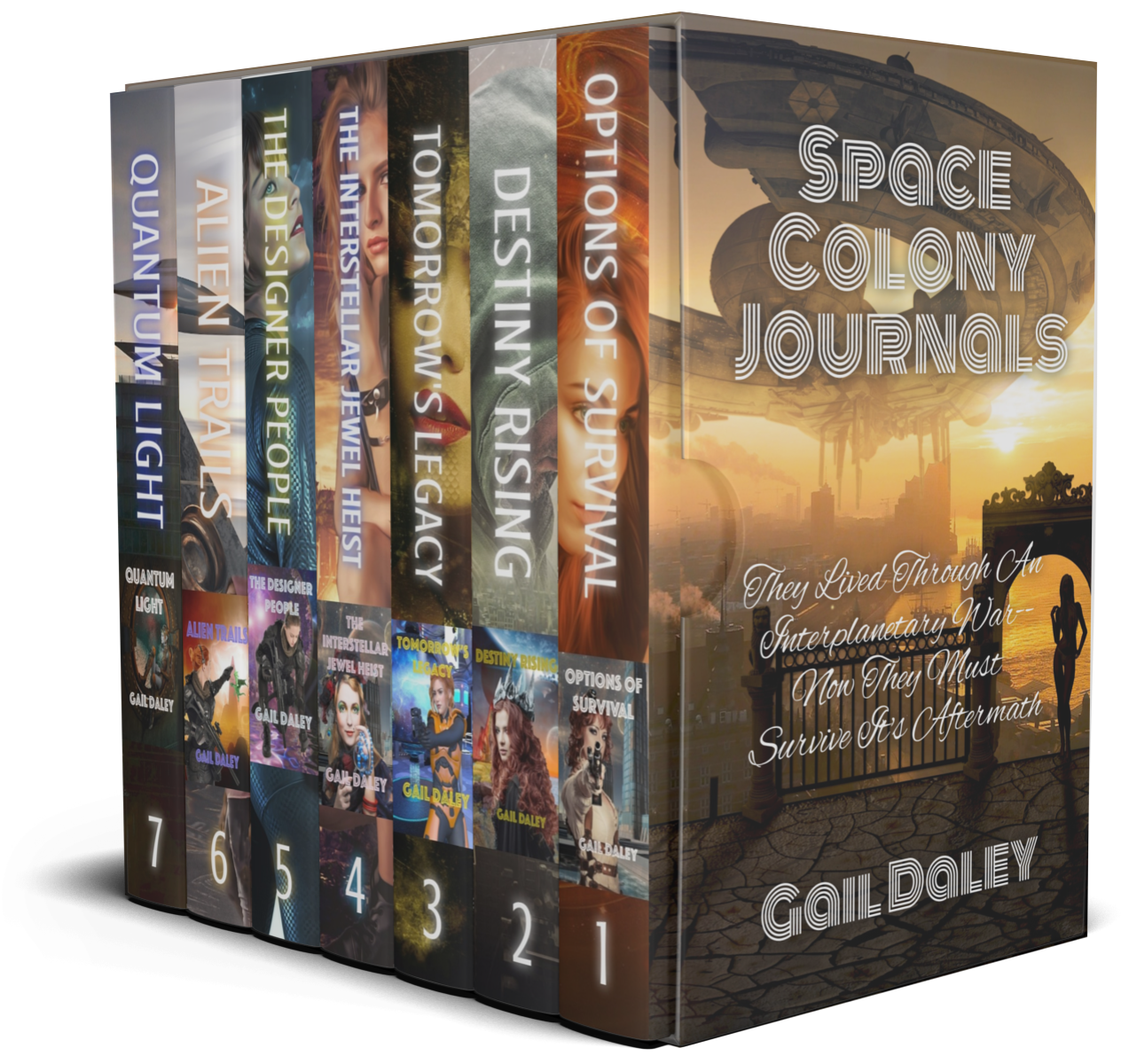 "The Will To Survive Is Mankind's Greatest Weapon."
"They won an interplanetary war; now they must survive the Peace."
Welcome to the far future. The Space Colony Journals are an epic tale of a family's struggle to survive on a colony in space. These are the courageous women and dangerous men who carve a home on the Alien World of Vensoog
Magi of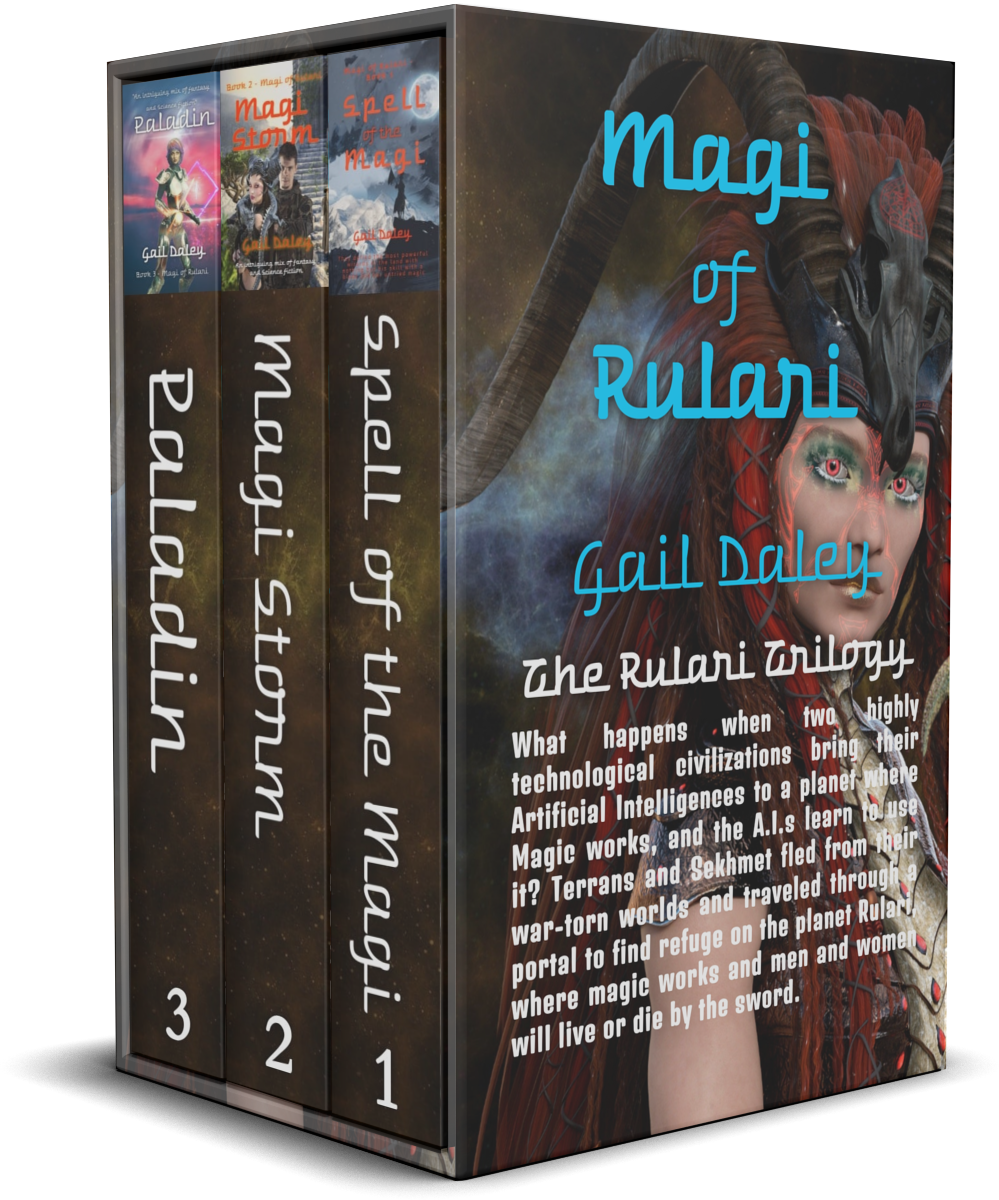 What happens when two highly technological civilizations bring their Artificial Intelligences to a planet where Magic works, and the A.I.s learn to use it?
Terrans and Sekhmet fled from their war-torn worlds and traveled through a portal to find refuge on the planet Rulari, where magic rules, and men and women will live and die by the sword.
Although the laws of science still work on Rulari, more powerful forces rule here: the power of Magic. Cut off from their home planets. to survive they needed to learn to control this new form of energy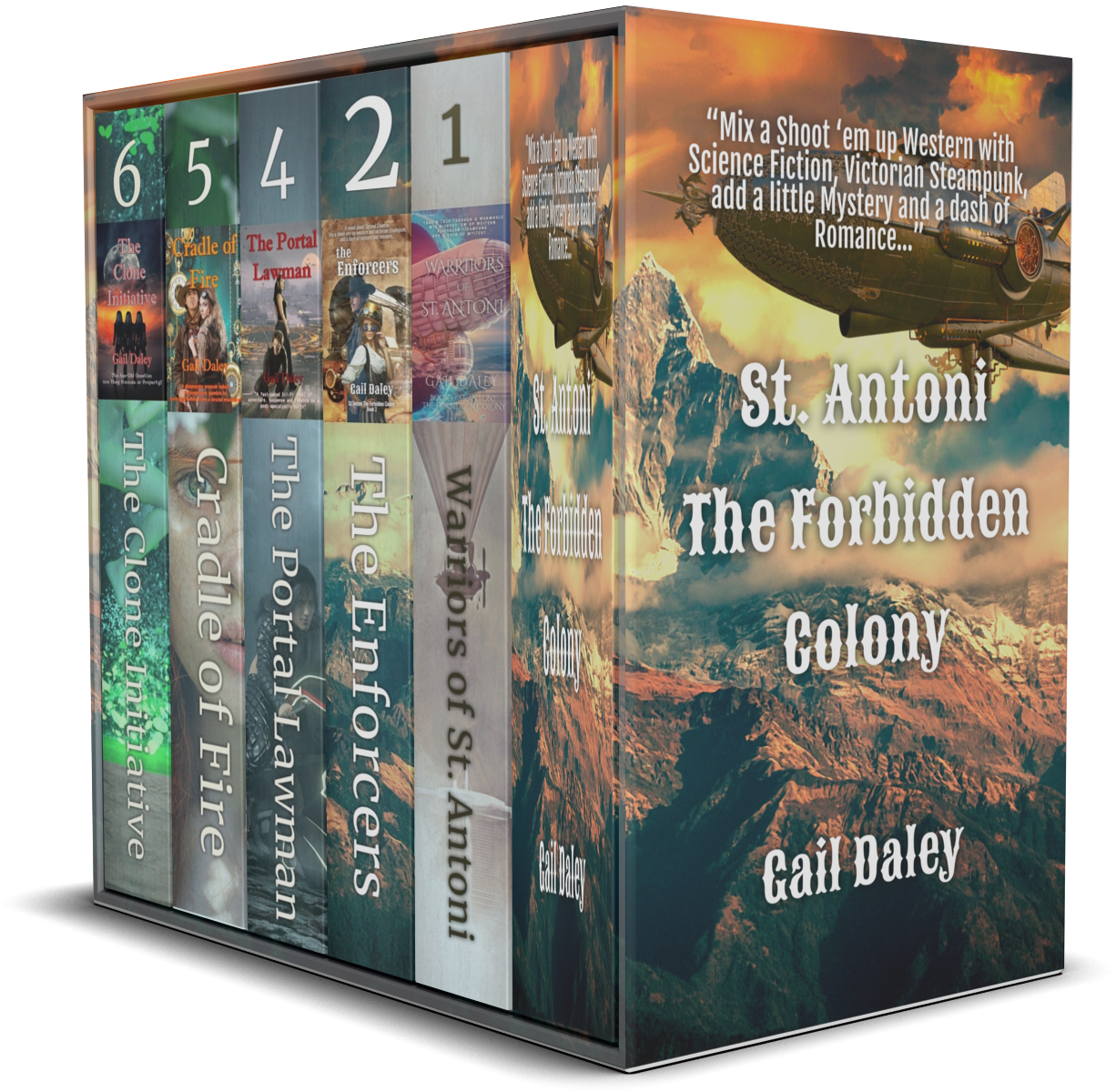 "Mix a Shoot 'em up Western with Science Fiction, Victorian Steampunk, add a little Mystery and a dash of Romance…"
The Portal to the world of St. Antoni was illegal. The men and women who reached it were desperate to escape earth. They were thrown on their own resources to survive with no help from earths advanced technology. With grit and determination, they created a civilization as different from the earth they left behind as Mars is from Venus.
The Modern
Artist's Handbook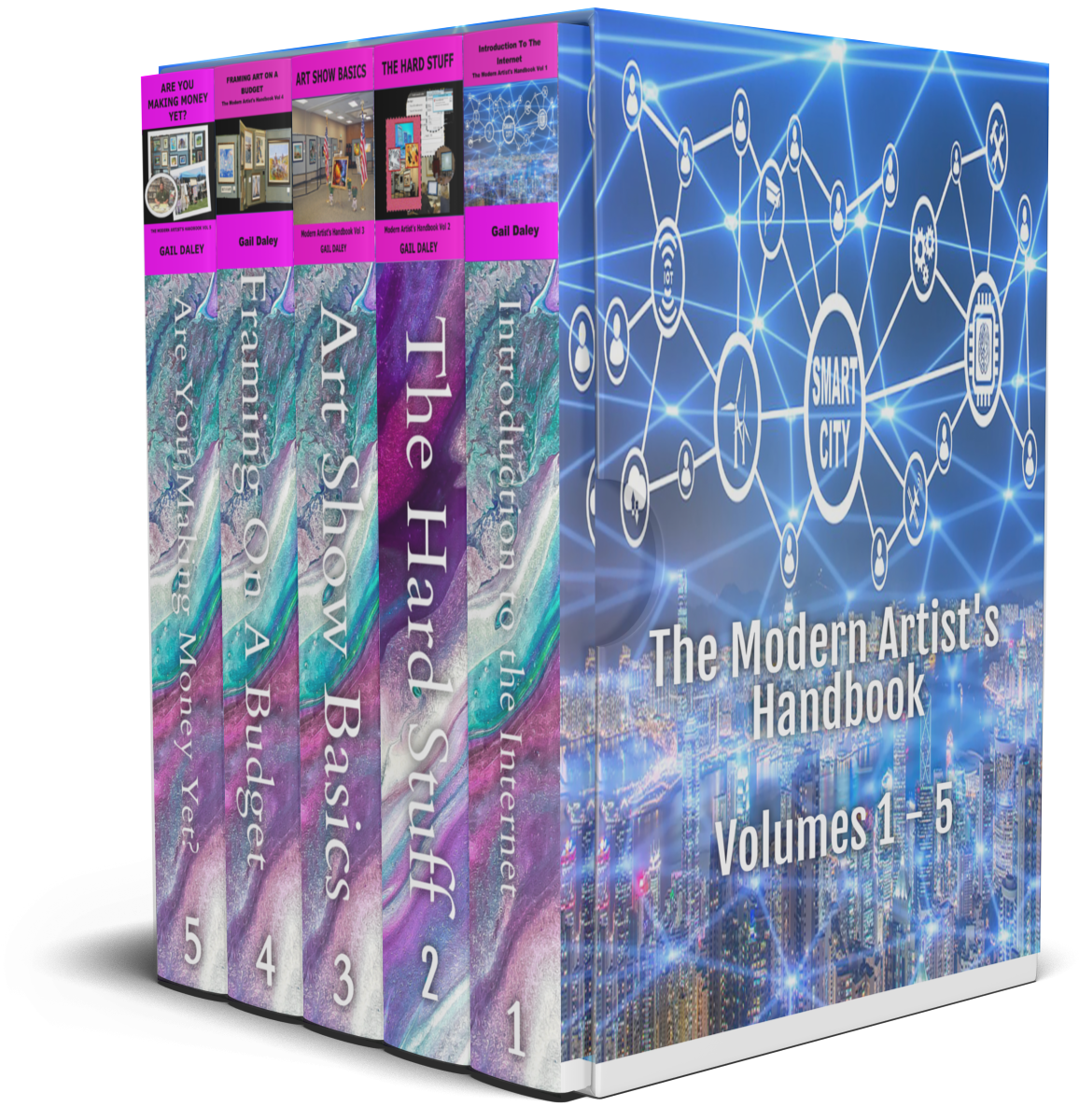 The Modern Artist pamphlets are non-fiction 'how to' books, created to assist the writer or artist in handling the business aspects of art or writing. They cover topics such as putting on an art show, organizing a book signing, organizing and tracking work, doing your taxes, etc.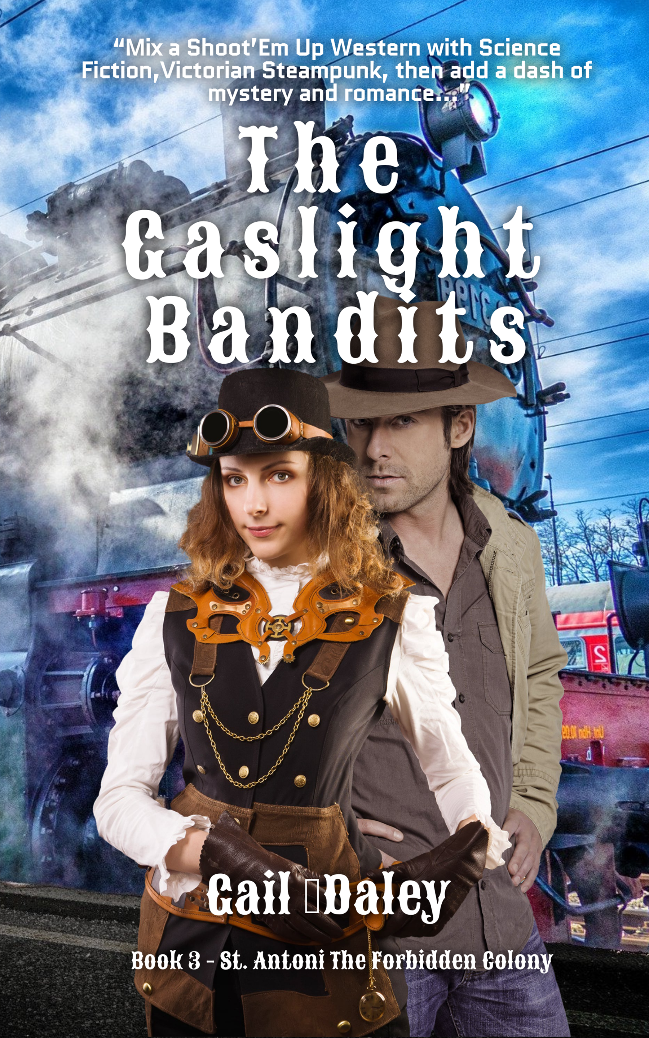 Order Now!
Book 3 – St. Antoni the Forbidden Colony
The Gaslight Bandits
"Take a trip through a Wormhole to another world, then Mix a Shoot'Em Up Western with Victorian Steampunk, add a dash of mystery…"
"A young woman is thrust into danger when she is drafted to help investigate a series of train robberies."
After their crazy father killed their mother, sixteen-year-old Francis Dominique became solely responsible for the welfare of her two young sisters. The colony of St. Antoni is a rough place; a woman needs to be smart and tough enough to protect, feed and clothe herself or find a man to do it for her. Francis opted for the first choice, and went to work for the Enforcers, St. Antoni's elite law enforcement bureau. She tries desperately to keep her mind on her work and not dream about her boss, the handsome, devil-may-care Hercule Jones.
When she is drafted into taking part in an investigation, she finds herself embroiled up to her neck trying to identify the outlaws robbing the trains connecting St. Antoni's City States. Then the investigation turns dangerous and personal problems begin piling up. Her father escapes from the Asylum for the criminally insane, and a lawyer with a custody writ arrives intending to drag her and her sisters to Copper City to live with grandparents who have ignored their existence until now. Can Francis keep her sisters safe and catch the outlaws without being killed herself?
Learn More: https://books2read.com/u/maglajz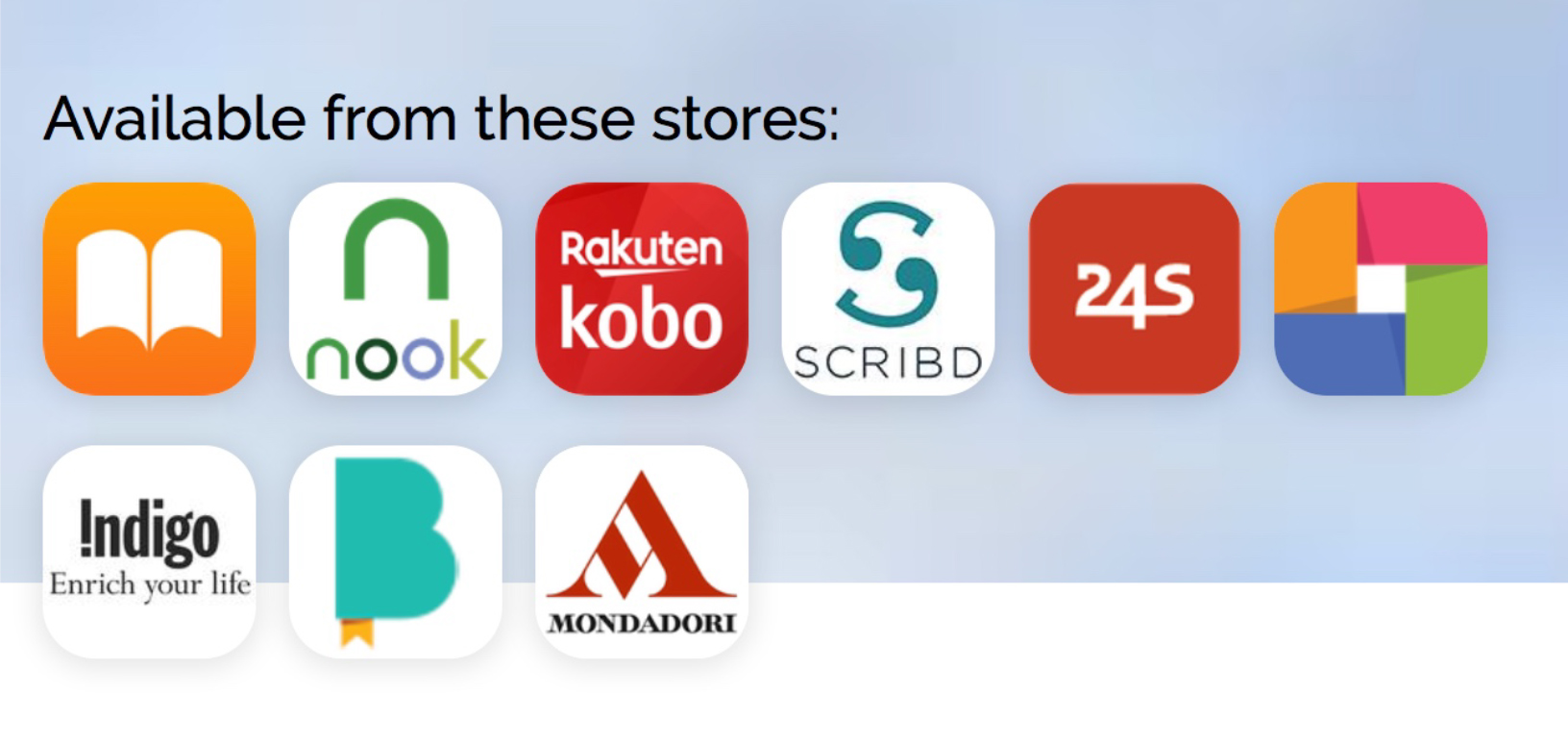 E-Book Available in All e-book formats
Print book available at Amazon $13.99
Or get a signed copy directly from Gail
order now
Book 7 in The Space Colony Journals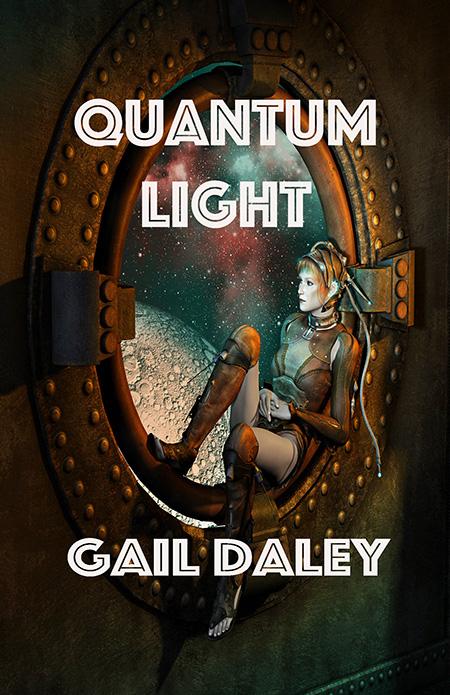 Book 7 – Space Colony Journals
A family of innocent botanists finds themselves thrust into the middle of a drug war on an alien planet.
Rupert and Aire have come to Trellya to negotiate the purchase of plants Rupert uses in the medicines and cosmetics his company makes. The dactyl Pelcon is with them because he goes everywhere Rupert goes. Sesuna came to find out what is happening on her family's estates. Teenage Selick came to see Trellya and meet the birth mother who sold her to the Thieves Guild as an infant. Will she love her or hate her? Either way, Selick has a lot of growing up to do.
To her horror Sesuna discovers her family's property has been over-run by rebels who plan to finance their revolution with the sale of Submit, a banned, highly addictive drug employed to make users compliant. They have already planted some fields on her property with the plants used to create it. If she can't prove her innocence the Magistra will use this as an excuse to seize the estate. But Before Sesuna can destroy the fields she and Selick are kidnapped by the rebels, whose leader intends to force Sesuna into marriage to gain control of the estate. Can Rupert and Sesuna defeat him and save her family's lands?
Order Now!
ARC copies available for Reviewers. Click here