The Clone Initiative
"A fast-paced Sci-Fi thriller of adventure, mystery and romance in a post-apocalyptic dystopian society."
Are Clones Human or Property? Do you believe there are disposable people?
Is a clone the property of the creator, or are they simply artificially created humans? Tally is one of three identical triplets. Are she and her sisters artificial beings? Clones created in a lab but raised as human girls? She had always been told they are human, but are they? She needs to know Now, because the battle over the humanity of artificially created people is heating up. Tally and her sisters are caught in the middle of the battle; a clone manufacturing company is attempting to claim Tally and her sisters as their property.
Escaped Clones are attacking isolated farms and houses and the state legislature is considering a law to make everyone submit to a DNA scan to screen for Cloning markers.
When she rescues cloned babies after a massacre at a Clone farm by wild clones, she must decide for herself what she believes about what makes a person human.
Learn More: https://books2read.com/ap/n41KK8/Gail-Daley
The Portal Lawman
Book 4 – St. Antoni the Forbidden Colony
"A fast-paced Sci-Fi novel of adventure, suspense and romance on a post-apocalyptic earth. Trapped in a web of deceit and danger, two young women make dangerous alliances."
The end of the world had come and gone. Those who remained after the apocalypse did whatever it took to keep themselves alive, and to preserve what civilization survived. Sometimes they broke laws and defied the will of the draconian government agencies who were supposed to keep anarchy at bay.
Lacey Delaney, head of Laughing Mountain's Portal committee, flouted government edicts by helping Portal Runners smuggle desperately needed goods, services, and people to the Forbidden Colonies.
Joyce Higgins has a stalker who is terrorizing her and her young sisters. When she and her sisters are accused of being clones by the Parallel Genetic Agency, they take refuge in Laughing Mountain. A Clone isn't considered a human being with rights under the law, but the property of whoever created it. Deputy Mark Connors says he can protect them, but can he?
Malachi Sullivan, sub-commander of the free militia, is one of those who hold the line against the tyranny of an overbearing government aided and abetted by powerful industrial giants.
Lacey and Malachi had been in love once, but a treacherous woman broke them apart. Now they must put the past behind them and work together to save their town and preserve the secret of the Portal to the Forbidden Colonies.
Learn More E-BOOKS: https://books2read.com/u/4NXkVx SOFT COVER BOOKS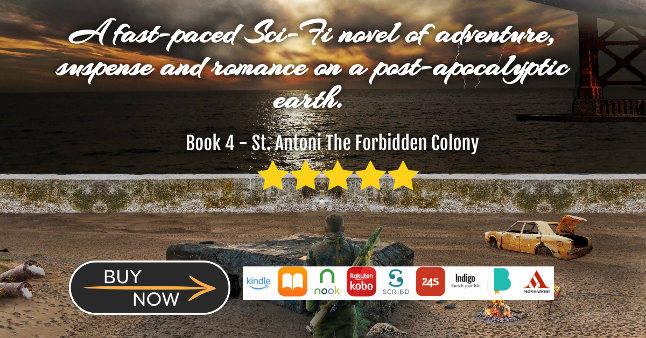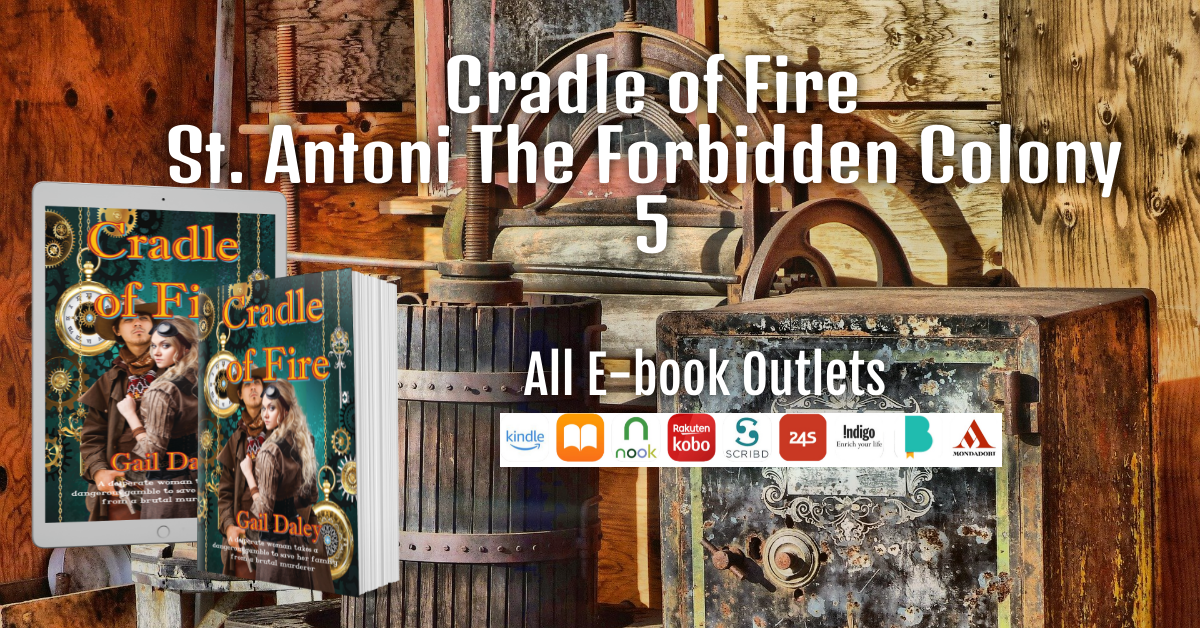 Cradle of Fire
"Recipe for the St. Antoni Series: Take a trip through a Wormhole to another world, then Mix a Shoot'Em Up Western with Victorian Steampunk, add a dash of mystery…"
A desperate woman takes a perilous gamble to save her family from a brutal murderer.
They weren't supposed to see the murders or discover their 'kindly' new guardian had slaughtered three people. But they did see it. Jade knows they can't go to the police—he owns them. The only choice is to run and hide; but where can a woman, and two teenagers go to be safe from a crime lord?
Desperate, she risks taking her family through an illegal Portal to St. Antoni. In the Forbidden Colony, they are safe from their former guardian. But she may have jumped from the frying pan into the fire. St. Antoni is a dangerous haven; it's a planet whose citizens have created a society poles apart from the dystopian earth they fled. With almost no resources, Jade needs a way to support herself and her siblings in this strange world.
When Jade is offered a job as an illustrator for a book company owned by the elderly Hortense Jones, she jumps at it. Then she meets Hortense's nephew, the fascinating Levi Jones. He is a former Enforcer with a dangerous reputation as a gunman. Loyalty to the kindhearted Hortense causes Jade to be drawn into the deadly feud between the Jones and the Smith families. Can she find happiness on St. Antoni and keep her family safe?
Learn More: https://books2read.com/u/brPvyM