The Portal Lawman
Book 4 – St. Antoni the Forbidden Colony
"A fast-paced Sci-Fi novel of adventure, suspense and romance on a post-apocalyptic earth. Trapped in a web of deceit and danger, two young women make dangerous alliances."
The end of the world had come and gone. Those who remained after the apocalypse did whatever it took to keep themselves alive, and to preserve what civilization survived. Sometimes they broke laws and defied the will of the draconian government agencies who were supposed to keep anarchy at bay.
Lacey Delaney, head of Laughing Mountain's Portal committee, flouted government edicts by helping Portal Runners smuggle desperately needed goods, services, and people to the Forbidden Colonies.
Joyce Higgins has a stalker who is terrorizing her and her young sisters. When she and her sisters are accused of being clones by the Parallel Genetic Agency, they take refuge in Laughing Mountain. A Clone isn't considered a human being with rights under the law, but the property of whoever created it. Deputy Mark Connors says he can protect them, but can he?
Malachi Sullivan, sub-commander of the free militia, is one of those who hold the line against the tyranny of an overbearing government aided and abetted by powerful industrial giants.
Lacey and Malachi had been in love once, but a treacherous woman broke them apart. Now they must put the past behind them and work together to save their town and preserve the secret of the Portal to the Forbidden Colonies.
Learn More E-BOOKS: https://books2read.com/u/4NXkVx SOFT COVER BOOKS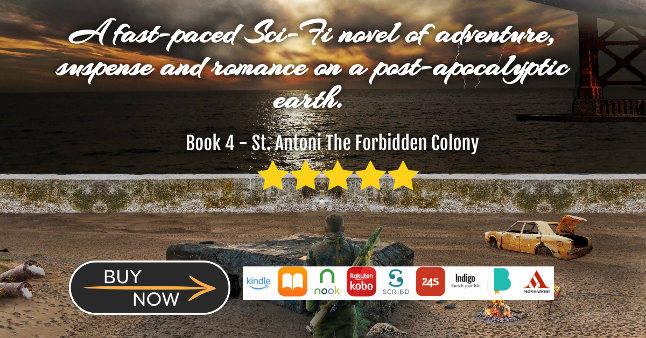 The Gaslight Bandits
Book 3 – St. Antoni the Forbidden Colony
"Take a trip through a Wormhole to another world, then Mix a Shoot'Em Up Western with Victorian Steampunk, add a dash of mystery…"
"A young woman is thrust into danger when she is drafted to help investigate a series of train robberies."
After their crazy father killed their mother, sixteen-year-old Francis Dominique became solely responsible for the welfare of her two young sisters. The colony of St. Antoni is a rough place; a woman needs to be smart and tough enough to protect, feed and clothe herself or find a man to do it for her. Francis opted for the first choice, and went to work for the Enforcers, St. Antoni's elite law enforcement bureau. She tries desperately to keep her mind on her work and not dream about her boss, the handsome, devil-may-care Hercule Jones.
When she is drafted into taking part in an investigation, she finds herself embroiled up to her neck trying to identify the outlaws robbing the trains connecting St. Antoni's City States. Then the investigation turns dangerous and personal problems begin piling up. Her father escapes from the Asylum for the criminally insane, and a lawyer with a custody writ arrives intending to drag her and her sisters to Copper City to live with grandparents who have ignored their existence until now. Can Francis keep her sisters safe and catch the outlaws without being killed herself?
E-BOOKS Learn More: https://books2read.com/u/maglajz SOFTCOVER BOOKS